[ad_1]

In a world running over with digital images and fleeting moments, Lim Kim Boon's passion has ignited a small movement that celebrates the beauty of Malaysia's diverse landscapes, cultures and people.
Through his "Photo Walk with Kim Boon and Friends," Lim has, over the last four months, been uniting like-minded individuals, sharing stories, making friends and documenting the essence of Malaysia, one frame at a time.
The Johor-born photographer, who makes a living by telling stories through photos, has been organising photo walks all over Malaysia, thanks to a suggestion by his photojournalist friend, Jahabar Sadiq.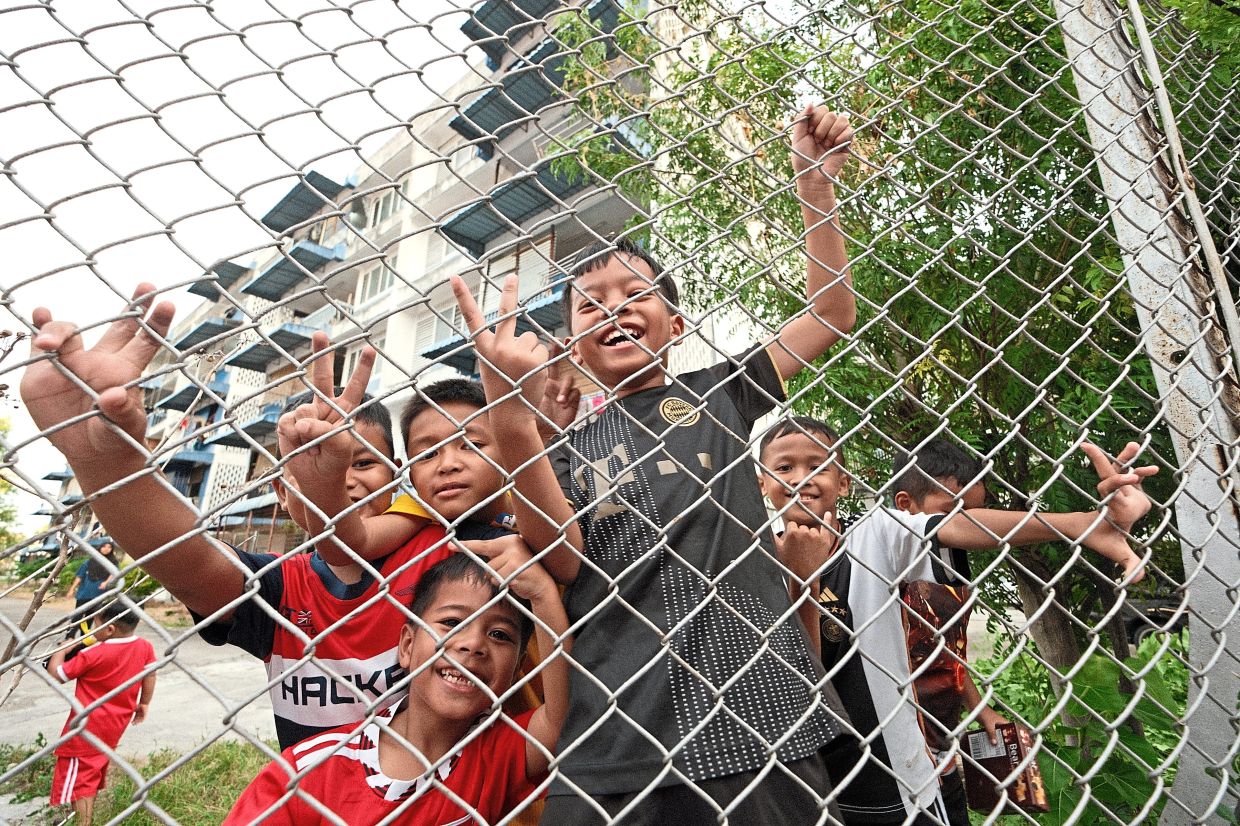 'The Kids (Behind The Fences)'. It was during the George Town's Heritage Celebration in Penang when we were walking the streets which were full of celebrations, performances and stalls selling foods and souvenirs. Then I saw this group of children playing in a compound nearby that was separated by a fence but they too were enjoying the celebration in their own way, recalls Lim. Photo: Lim Kim Boon
"Jahabar knows that I often visit places to take photos and hold workshops because of my job as a Fujifilm brand influencer, so he suggested that I start documenting these stories and photos in conjunction with the 60th Malaysia Day," says Lim, 53.
"The idea really resonated with me and I decided to challenge myself to cover all 13 states and see as many places as I could this year; then I thought instead of just going on my own, why not invite others to join me on this venture."
And that's how the photo walks began.
Lim's adventure kicked off in the historical city of Melaka at the end of April and from there, he ventured to his hometown of Batu Pahat, then on to the charming streets of Kuching in Sarawak and the royal city of Klang, Selangor.
The Batik Maker: Fuad has been making batik for the last five years in Kuala Terengganu. While there are numerous methods of making batik, he specialises in block printing. Photo: Lim Kim Boon
What began as a personal journey of exploration soon transformed into a shared voyage of discovery, as enthusiasts from all ages (15-75) and walks of life began to join Lim's photographic trek to over 20 locations across the nation.
Lim and others started posting their photos on Instagram, using the hashtag #MalaysiaAt60.
"But it wasn't simply about taking photographs," Lim reflects.
"I wanted to create a pictorial celebration of our country's diversity and inclusion. I wanted to get to know my fellow Malaysians on a deeper level."
Rewind 35 years and you'd find Lim, the Batu Pahat High School fourth former, doing pretty much the same thing: organising photography talks and competitions for schoolmates, connecting people through his love for photography.
Festival Dato Chachar: Many may think this was taken during Thaipusam but it is not … it is known as the Datuk Chachar Festival, a major celebration among the Chitty diaspora in Melaka, and in this instance it was widely celebrated by the Chinese too. Photo: Lim Kim Boon
"My father had a Mamiya camera back then and I was fascinated by it. He later bought me my first camera – an Olympus OM10 – and introduced me to his photographer friends, one who used to run a photo studio. So very early on, I got the chance to learn the ropes here, sitting and chatting with my dad's friend in his dark room, learning whatever I could about the trade. And that served me well.
"Even though I didn't get a chance to embrace my photography skills until later on in life, that initial foundation was instrumental."
Small-town boy
As Lim planned photo walks in smaller towns and places of interest, he was delighted that his mission was evolving beyond his initial intentions. With each new trip, he began to unearth inspiring stories from both the places he visited as well as the individuals who walked alongside him.
The photo walks were now turning into a canvas upon which narratives of strength, resilience, and unity were being etched.
"My wife and I met a Singaporean lady who chose love and marriage, embracing a life without electricity or water supply in Padang Tengku, Pahang, 60 years ago; we really fell in love with Kuala Lipis, where we were welcomed with open arms …" he says, adding that his wife, Khim, has been a steadfast companion, accompanying him on 80% of his trips.
"It was a chance for us to also travel and visit some of the towns we had not been to," says Lim.
The Iban Girl: Seen here is beautiful model Felicia whom we met in Kuching, Sarawak. She is wearing the 'Ngepan Iban' traditional Iban attire usually worn during Hari Gawai or during public events such as the Pekit Kumang celebration. This traditional dress is also worn during weddings. Photo: Lim Kim Boon
"We had an amazing time in Kuching drinking 'opium coffee' (that's black coffee with butter on top) for the first time; we made friends with a lady, and later found out she was neighbours with one of my tuition teachers, and we ended up video calling my teacher! What a small world!
"In Melaka we were very fortunate to chance upon a rather unusual event called 'Festival Datuk Charchar (charchar means smallpox in Malay)' during which the Chitty community performed prayers to the Goddess Mariamman, who is believed to cure ailments. It was surprising for us to see so many Chinese speaking groups participating in this procession, prayers and devotional activities," Lim recounts some of the interesting tales he encountered along the way.
"In Pendas, Johor, we met a young NUS lecturer who is married to a local man from a fishing family and this couple has started up a nature and heritage association called Kelab Alami to help local villagers prosper.
"And again we realised it was not just about taking photos," says Lim.
"It was about making connections and becoming part of a larger narrative."
Lim's (front row, left) personal journey of exploration transformed into a shared voyage of discovery, as enthusiasts from all ages (15-75) and walks of life joined his photographic trek to over 20 locations across the nation. Photo: Lim Kim Boon
Indeed camaraderie and a sense of togetherness was a highlight as strangers became friends and stories intertwined, resulting in a rich tapestry of shared experiences. The impact of these photo walks has also extended beyond geographical boundaries uniting individuals who share a common love for photography and a desire to celebrate Malaysia's unique identity.
Lim's lens offers a glimpse into the heart and soul of Malaysia's towns and cities: from the towering skyscrapers of Kuala Lumpur to wooden houses on stilts in Pendas, the photos offer a contrast that mirrors the duality of Malaysia's modernity and tradition.
Small towns are a bit of a fascination for Lim.
"Believe it or not, despite having to work in the city, I still stay in Batu Pahat, because I love the pace and stress-free life there. I would much rather travel for work to KL because I enjoy the drives, and the drive time gives me an opportunity to reflect on life."
Lim says it was delightful to discover others like him.
Indian Dancers: 'Taken during the Heritage City Celebration in Penang, in conjunction with the 14th George Town Festival. The first thing that attracted me was the colours of their costumes. They were so strikingly beautiful and the dancers were also very good with all their facial expressions. I just thought they would make a great group portrait together,' says Lim. Photo: Lim Kim Boon
"We met a group of young people who had given up their careers in the city to resettle in Kuala Lipis. One young man opened up a quaint little restaurant. You must go and visit if you ever get the chance!"
As he approaches the completion of his four-month-long journey, Lim reflects on the stories that have unfolded before his lens.
From the Orang Asli communities near Pendas to the warm hospitality of Kuala Lipis residents, each chapter of this visual narrative paints a vivid picture of Malaysia's diversity.
"I became a bit overwhelmed at one stage because there was just so much to see and shoot. I have a few hundred gigabytes worth of pictures which I hope to sieve through and perhaps exhibit or publish in a book someday!" says Lim.
The Spice Man: 'This was captured in Kuching's India Street. The little shop is located between the old and new Indian Muslim mosques. I was intrigued by both the rich smells and colours of the 'rempah' and also how they were presented,' says Lim. Photo: Lim Kim Boon
His story is one of transformation – a journey that started with a simple suggestion and evolved into a movement that unites, inspires and celebrates.
Through his lens, Malaysia's towns and cities have come alive with the energy of its people and the richness of its heritage.
As he continues to connect with the nation's pulse, Lim remains a beacon of inspiration, reminding us all that there is beauty and significance in every corner, waiting to be discovered, captured and shared.


[ad_2]