[ad_1]

"We all start out being fascinated by the sky, you know, the stars and the moon and the sun." — Rouz Bidshahri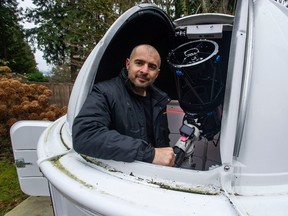 Article content
Think about what it would be like to record Beethoven's Fifth — no, better yet Mozart's Jupiter Symphony — during a sold-out Vancouver Canucks game inside Rogers Arena, filtering out every decibel that isn't a flute, oboe, timpani or violin.
Article content
That's what Rouz Bidshahri's backyard telescope does, except with ambient light pollution instead of sound.
Article content
The results are breathtaking photos of galaxies which, indeed, are far, far away.
"If I could turn off all the lights in the neighbourhood, I would," Bidshahri said while guiding a guest to the dome he's installed out back of his Dundarave home in West Vancouver. "Even for professionals it's an issue because city lights are spreading everywhere.
"These filters can reject a lot of artificial light, but if you're in a dark place, the middle of nowhere, that's better, obviously."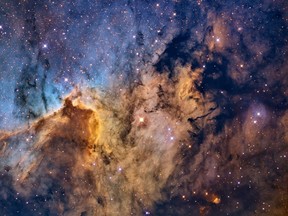 Bidshahri is a hobbyist astronomer but his photos of galaxies, nebulae and the solar system whose light barely reach the naked eye as flickering pinpoints rival anything published on social media from the Hubble space telescope.
Article content
And, almost as incredible as the photos themselves, Bidshahri's telescope is off-the-shelf DIY. A couple of tools at the telescope's base — small wrenches and Allen keys, the sort you might carry in a pouch while cycling — and a multi-tool pocket knife are pretty much all it takes to keep things running.
"This is a reflector telescope and every part of this setup is made by a different company," Bidshahri said. "That's half the challenge, finding these parts to work together and the software and the hardware.
"It's just stuff that you buy off the internet really. And like you said, with wrenches and a Swiss Army knife as tools."
The dome itself is manufactured in Coquitlam by NexDome Observatories — they ship them all over the world — and takes a few hours to assemble.
Article content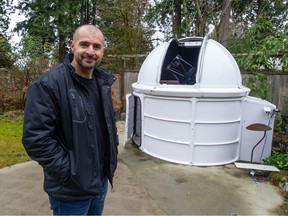 The whole kit and caboodle set him back for about what it would cost to buy a Tesla.
"I mean, you can imagine if I'm doing this stuff by myself with my own funding what, for example, NASA with a team of people and unlimited funds can do."
Bidshahri takes 10- or 15-minute exposures, his telescope aligned with the Earth's axis and calibrated within a tiny fraction of a hair's width to counter the planet's rotation. It takes hundreds and hundreds of these to turn that faint, millions-of-years-old light into the photos you see on his website.
We all know how the song goes: Twinkle, twinkle little star … and while it's an English lullaby its message appeals to children worldwide.
Oh how Bidshahri as a toddler wondered what those shimmering diamonds up above the world so high were.
Article content
"Apparently my first question was, 'What are those pointy things, those shiny things in the sky?'" he said. "We all start out being fascinated by the sky, you know, the stars and the moon and the sun."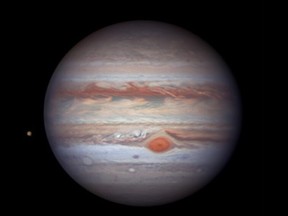 But his studies — he's a mechanical engineer — first took him far underground, probing the oil and gas fields from platforms in the stormy North Sea.
"It's a similar concept (to star gazing), actually, logging data, but yeah, also two extremes."
Both the formation of petroleum fields and of galaxies are definite blasts from the past, at any rate.
For the uninitiated, light travels fast but space is, well, spacious. The light we see from the sun's surface takes eight minutes to reach us; light from our nearest spiral-galactic neighbour, Andromeda, takes roughly 2.5 million years to reach Earth.
Article content
Bidshahri aims at galaxies as far as 30-million light-years away, but what he records is still older/further away yet.
"Let's say 30 million light-years from us is the main target and it shows up in the foreground (in his photo). But when you zoom into the background, you see these tiny little dots and those tiny little dots are not stars, those are actually other galaxies.
"I couldn't say which particular ones, but I'd say any of them could be up to 100 million years old.
"And I have a lot of pictures from patches of sky where there are thousands of galaxies in them. Some of them are not even named yet, not yet officially catalogued."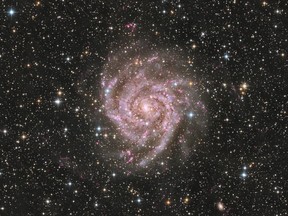 Even as an amateur such as himself can capture the beauty of the cosmos from his backyard, Bidshahri anguishes that as development spreads light pollution further and further afield, and as more and more noses point down to hand-held devices rather than up at the night sky, we lose touch with something that should inspire awe.
Article content
"I think what's going to happen, what is happening unfortunately and especially with the younger generation, people don't know what stars are.
"I'm sure, I would say, most of the population has never seen the Milky Way."
---
More news, fewer ads: Our in-depth journalism is possible thanks to the support of our subscribers. For just $3.50 per week, you can get unlimited, ad-lite access to The Vancouver Sun, The Province, National Post and 13 other Canadian news sites. Support us by subscribing today: The Vancouver Sun | The Province.
Coding for Veterans opens cyber doors for those who served Canada

Vancouver's worst drivers? YouTube channel a 'hit' showing crazy stunts


[ad_2]