[ad_1]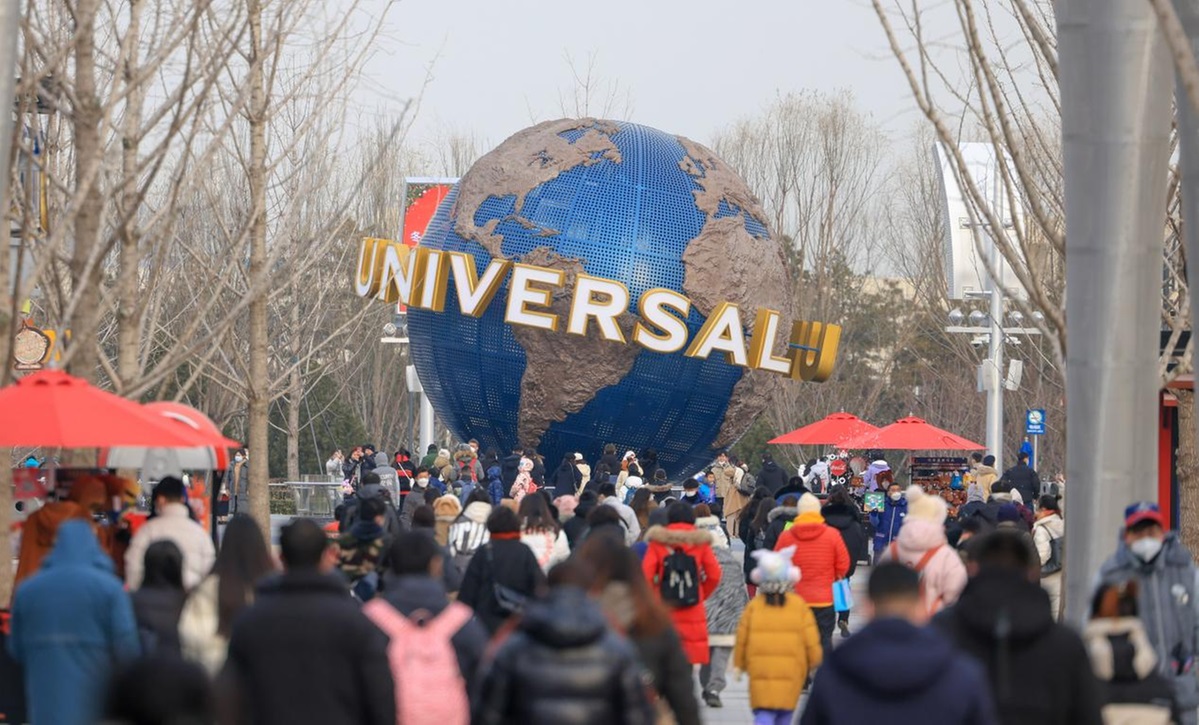 Universal Beijing Resort is banning and denying the access of unauthorized professional photographers who offer tourists at the resort photo-shoot service.
Recently, several freelance photographers who offer services to tourists inside Beijing Universal park posted on Xiaohongshu, an Instagram-like app, that the park is removing the private photo-shoot service offered by professional photographers inside park.
"Starting from April 2, Universal park is taking action to prevent photographers from offering photo-shoot services inside the park, especially in the area of the Wizarding World of Harry Potter. And the specific action to prevent photo-shoot services is still unknown," a photographer nicknamed She Ying Shi Xiao Yue posted on Xiaohongshu.
Many expressed their support over the park's decision. "It is an amusement park, not a photo-shoot studio," commented a Xiaohongshu user nicknamed Mu Zi De Li.
Some shared their visiting experience in the park saying that it seemed some visitors and their photographers were growing roots in some scenic spots inside the park, which affected their visiting experience and caused chaos, especially during peak hours.
"To be honest, it was very disturbing to see visitors posing in front of their photographers in the park, especially in the Wizarding World of Harry Potter, whose passage is rather narrow and their posing activities just blocked other visitors," a netizen Xiao Tai commented.
Some were against such ban, claiming that photo-shoot services were convenient to some tourists, especially when they were not good at taking photos.
"It was convenient to hire a photographer inside the park," said a netizen Yi Zhi Chong Tian Tu Zi.
"I usually started at 10 am and worked for 6 or 7 hours at most a day. The price varies and the standard package is 200 yuan ($29) per hour, which is about over 30,000 yuan a month," a freelance photographer told the China News Service, adding that reservations for the next week were full. Photographers like him usually have bought the park's annual pass to enter the park everyday.
However, the ban caught freelance photographers like him unprepared. Several photographers posted online that they were barred from taking photos as they were familiar faces to workers of the park.
The ban was for the copyright and, most importantly, to protect the interests of visitors, especially with the peak season soon arriving and many visitors having already complained online about the photo-shoot services disturbing regular visiting and the photography of regular visitors, a worker from the park told Beijing Youth Daily.
When asked why freelance photo-shoot services were banned, a customer service representative with Universal Beijing Resort told the China News Service that photo-shoot services offered by freelancers have always been forbidden inside the park.
According to the park rules: photography, videotaping, audio recording or live streaming of any kind are strictly prohibited, except for personal and non-commercial purposes.
Visitors can take photos either with their cameras or phones, the customer service representative added.
As for the photography needs of some visitors, the park offers authorized photography services that cost 388 yuan, which takes photos for customers in various hot spots throughout the park.
However, when asked how to distinguish a freelance photographer from a tourist, the customer service representative was not clear about the criteria.
[ad_2]