[ad_1]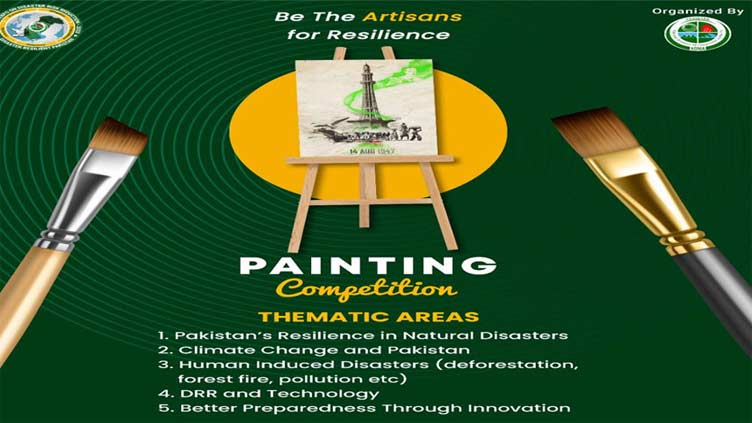 Pakistan
Winners would be conferred cash wards up to Rs100, 000
ISLAMABAD (APP) – The National Disaster Management Authority (NDMA) has announced a nationwide competition of painting, photography, and short film for students above 18 years of age under the auspices of its patronized Pakistan Expo on Disaster Risk Reduction (PEDRR-23).
The painting competition at NDMA's patronized Pakistan Expo on Disaster Risk Reduction would help the youth to use their art to inspire the "Disaster Risk Reduction (DRR)" spectrum in Pakistan and win cash prizes.
The winners would be conferred cash wards up to Rs100, 000 for 1st, Rs75,000 for 2nd and Rs50,000 for 3rd top achiever.
The aspiring students were asked to submit their artwork by 8th July 2023 in oil/water/canvas or digital format in A3 size on any one of the following thematic areas: Pakistan's Resilience in Natural Disasters & Climate Change Impact, Human Induced Disasters (deforestation, forest fire, pollution etc), DRR and Technology and Better Preparedness Through Innovation.
It also provided an equal opportunity for aspiring filmmakers to showcase their talent and creativity in the short film competition at PEDRR-23 and secure their chance to win cash prizes and recognition.
The first prize winner would be awarded a cash prize of Rs100,000, for 2nd Rs75,000 and for 3rd Rs 50,000.
The short film duration limit must be 30-45 seconds covering any one of the thematic areas mentioned above.

Moreover, the NDMA also provided the opportunity for the youth to have a keen eye for capturing the beauty and resilience of people and nature in the face of disasters.
The top three winners of the photography competition would be given the following cash prizes of 1st: Rs100,000, 2nd: Rs 75,000 and 3rd: Rs 50,000 respectively.
The participants would have to submit their images by 8th July 2023 in A4 size covering one of the thematic areas mentioned above.
It has been mentioned by the NDMA that the content must be original as plagiarism will be considered disqualified. The age limit will be 18+ and only enrolled students will be allowed to participate.

 
' ;
var i = Math.floor(r_text.length * Math.random());
document.write(r_text[i]);
[ad_2]