[ad_1]

Refresh
60% off the BlissLights Sky Lite Star Projector right now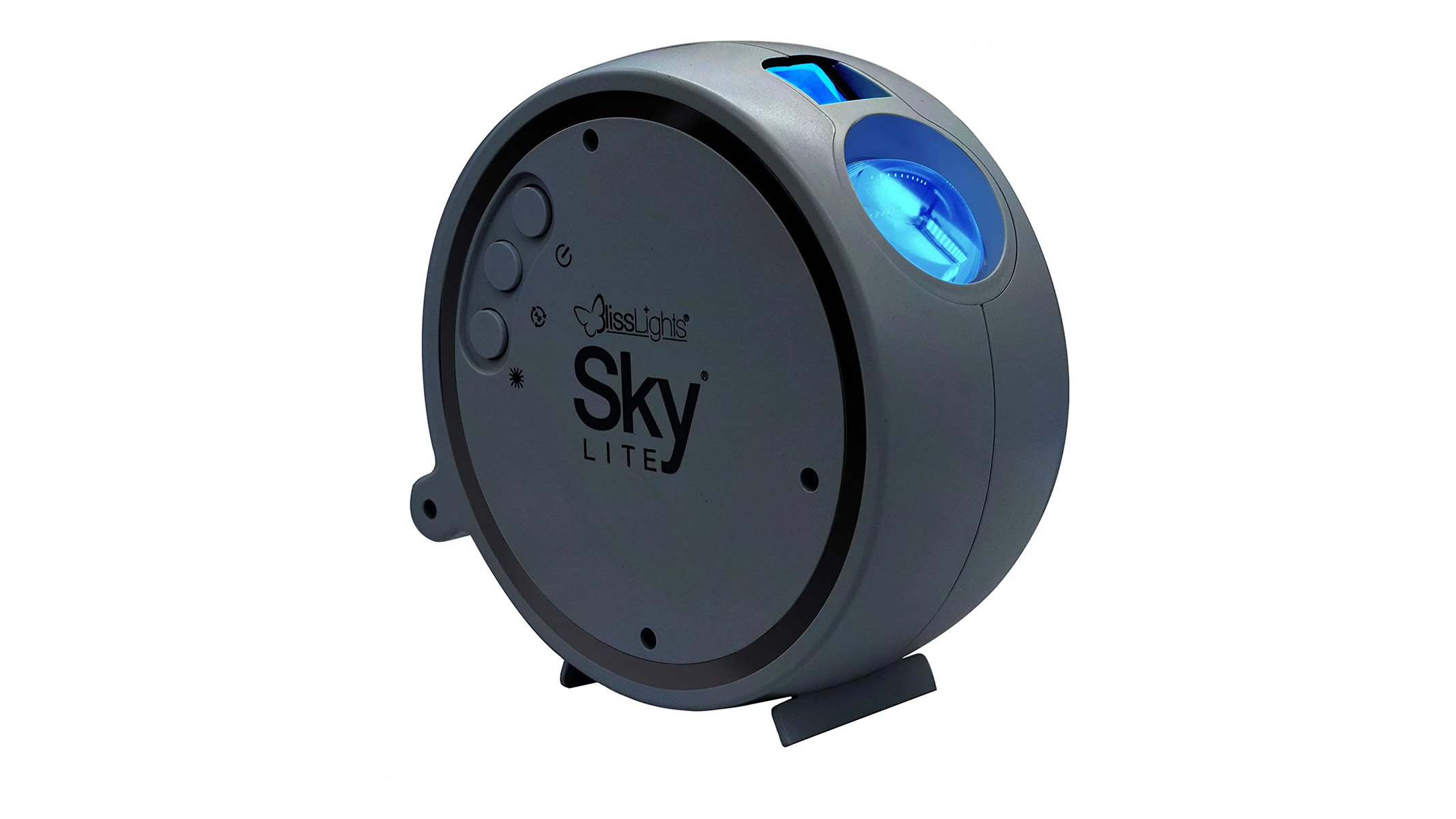 Completely transform your bedroom or living room for less than $20 with this perfect holiday gift for space lovers. Save a huge 60% on the original price of the BlissLight Sky Lite over at Walmart with this easy-to-use, button-controlled star projector which even has a six-hour timer for those that like to go to sleep to the ambient lighting.
We reviewed the BlissLights Sky Lite 2.0 earlier this year and gave it 3.5/5 stars because it was easy to use and gave decent ambient lighting, so we're confident that the Sky Lite is a bargain star projector in this Black Friday deal.
Save 21% on the Celestron AstroMaster 70AZ telescope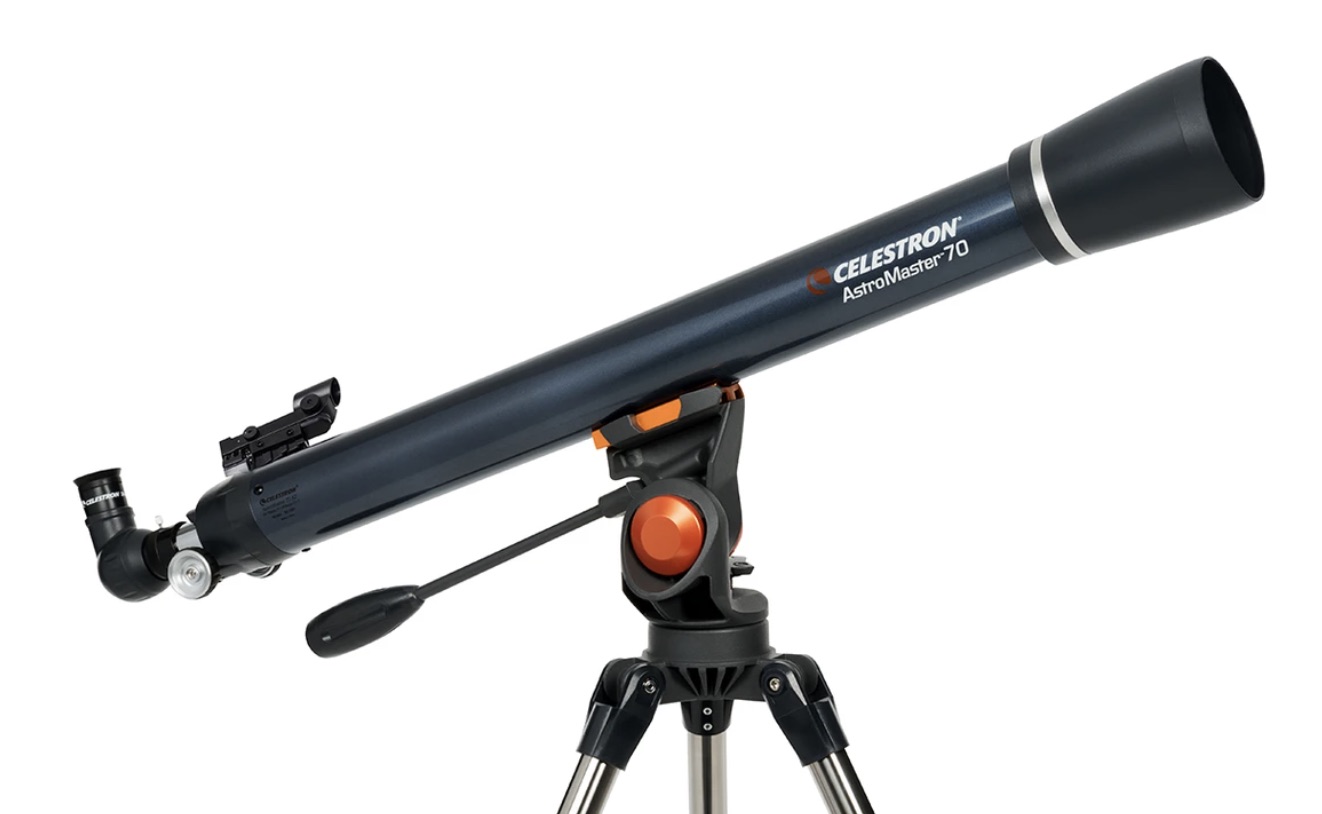 Save 21% on the Celestron AstroMaster 70AZ refractor telescope which comes with an Alt-Az mount that is beginner-friendly. The telescope features a 70mm aperture and a 900mm focal length to provide good views of the moon and stars. 
Celestron is known for its excellent build quality and the telescope comes with two eyepieces (20mm and 10mm), a fully collapsible lightweight tripod, a red dot finder scope and free access to the Starry Night software which is packed with information about 36,000 night sky objects to help newcomers learn about night sky objects. All this for under $150 makes this a Black Friday telescope deal worth having.
Sony A7R III is now discounted by $500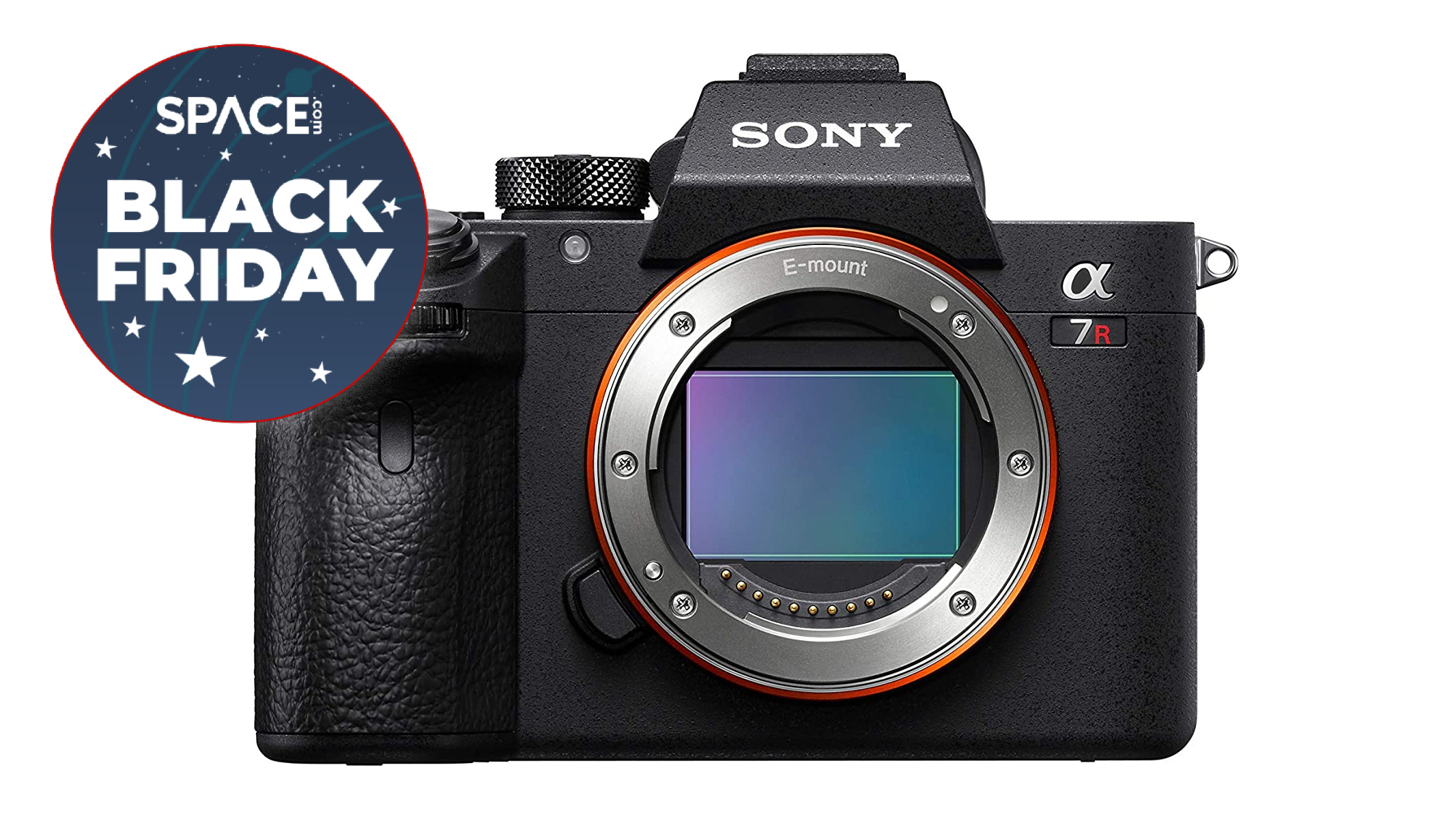 Save more than 20% off in this Black Friday camera deal on the Sony A7R III. The mirrorless camera, known for its superb full-frame CMOS 42.4MP image sensor is now $500 off in this Amazon deal.
It's perfect for astrophotography due to its extended ISO range (50-102,400) but it lends itself to many styles of photographers and videographers with a host of useful features like EyeAF autofocusing for sharp portraits, and 4K HDR video capture.
Editing is easy as well because the A7R III has up to 15 stops of dynamic range to retain detail in the brightest highlights and blackest shadows, meaning image files (or video) are flexible when editing in Lightroom or Photoshop.
Save 15% on Celestron's iconic NexStar 8SE telescope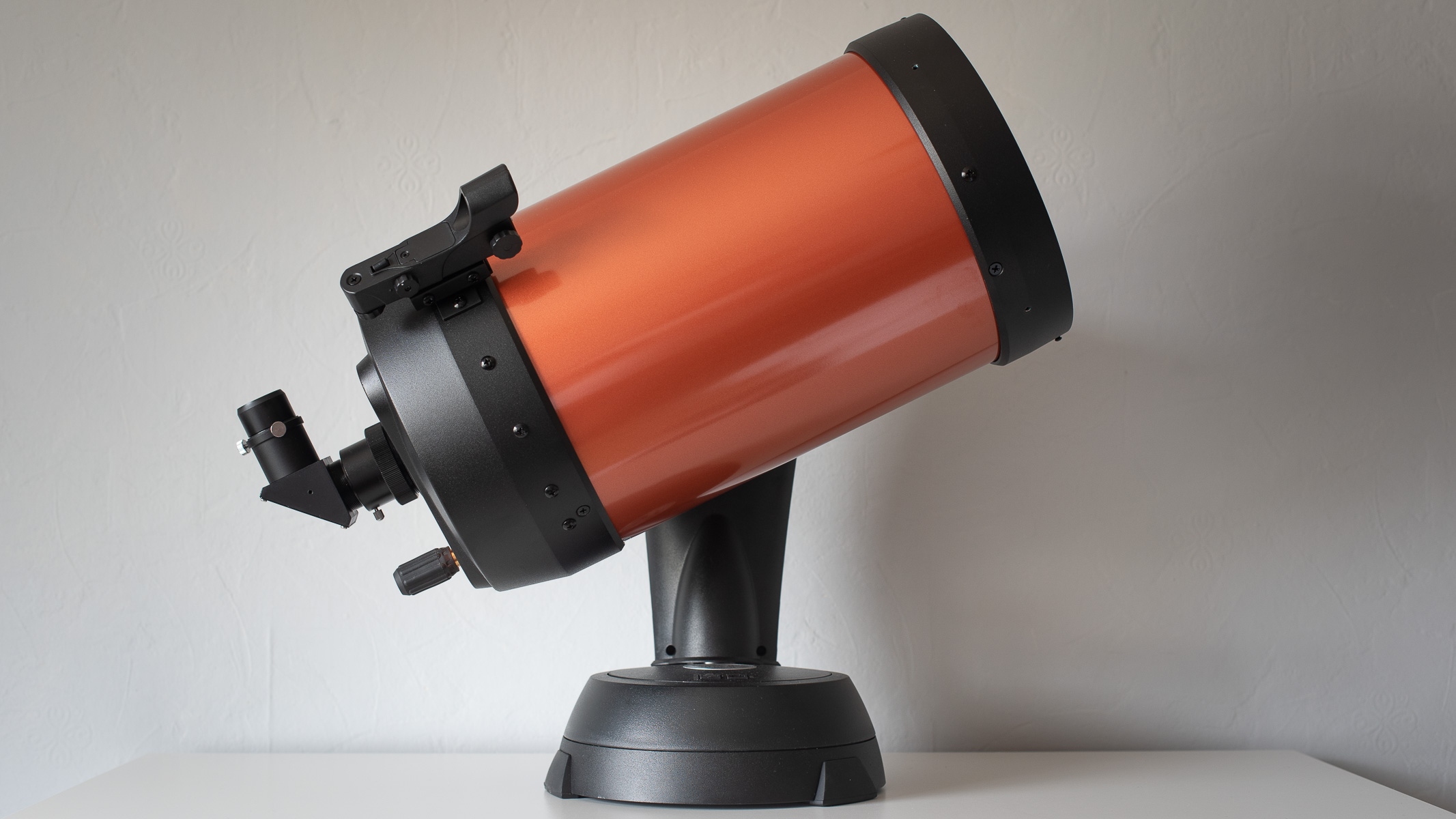 Known the world over as one of the most iconic line of telescopes, the much-loved Celestron NexStar 8SE is now on sale with $200 for Black Friday over at Amazon and Adorama.
The line has been going since the 1970s but Celestron's 8SE, the largest in the NexStar line-up, is truly exceptional. A Schmidt-Cassegrain design, this catadioptric telescope takes advantage of a hybrid technology between refractor and reflector telescope designs to provide a massive 2032 mm (80-inch) focal length and huge 203.2mm (8-inch) aperture in a tiny package.
Suitable for all kinds of astronomers it may not immediately be friendly to beginners but it has such breadth of use that, when paired with one of the best eyepieces, you can observe the moon, stars, planets, nebulas and more in exquisite detail.
Ultimate sharpness and incredibly bright, the NexStar 8SE ships with a red dot finderscope and a 25mm eyepiece — which you can upgrade as and when you're ready to take astronomy to the next level.
20% off the Celestron PowerSeeker 70 AZ refractor telescope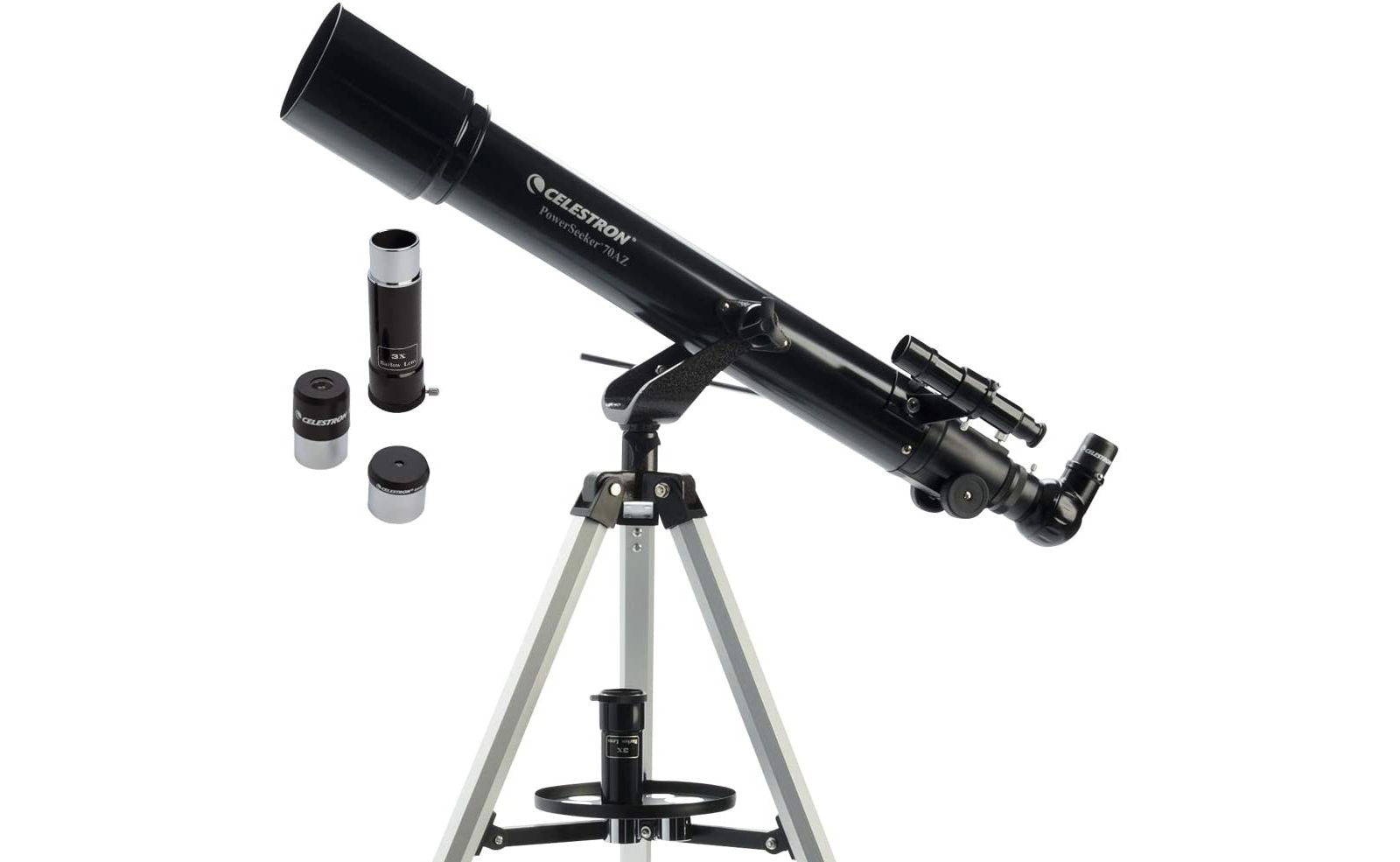 Now under $100 the Celestron PowerSeeker 70 AZ refractor telescope is 20% off for Black Friday over on Amazon. This refractor telescope is ideally suited to beginners who want to view the lunar surface and nebulae. With a 70mm aperture, the telescope has a focal length of 700mm and ships with all the accessories you need to get started quickly.
Two eyepieces (4mm and 20mm) pair with a whopping 3x Barlow lens to magnify your night sky objects. An erect image diagonal means no more cricked necks trying to peer through the eyepiece. A 5×24 finderscope helps you locate night sky objects easily before fine-tuning through the eyepieces with more precision.
Celestron also bundles free access to the Starry Night software that gives information on 36,000 celestial objects for the uninitiated.
73% discount on this Astronaut star projector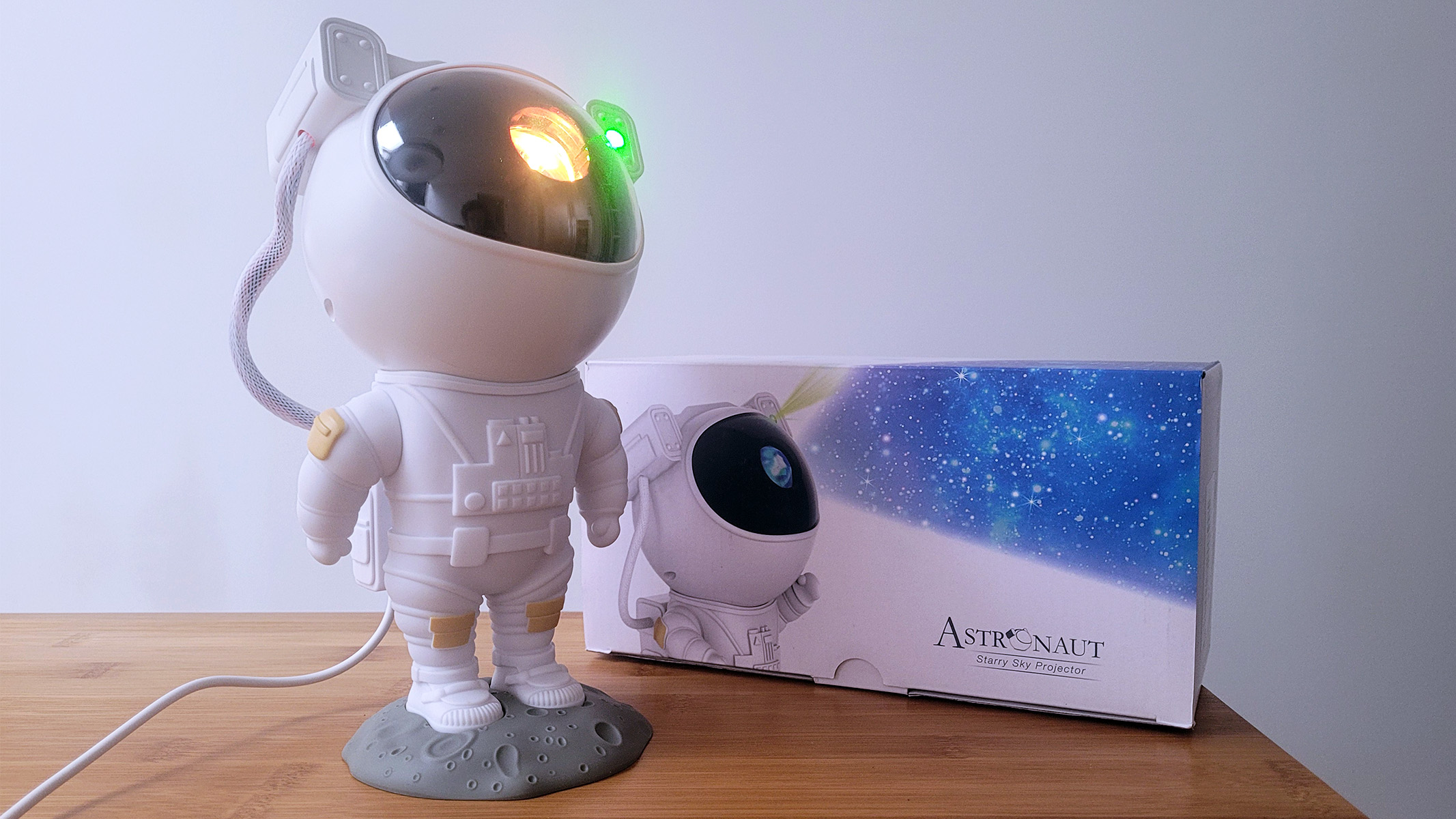 Save 73% on the Astronaut Starry Sky Star Projector. The projector is an astronaut that can be posed into different positions and projects stars through its visor. It has eight in-built nebula effects and the projector can be set to a timer for those using it to sleep. 
The ideal space gift, save a massive 73% in this Black Friday star projector deal which takes the price down to just $7.58. We said in our Astronaut space star projector review that anything under $35 is a bargain, so $7.58 is insane. It should suit any wall or ceiling thanks to the adjustable projection angle and we love it as an early holiday season gift.
What we like about the projector is its surprisingly good build quality, the fact it's packed with impressive and effective lighting and its general appeal to all space fans, whether young or older.
Save 50% on a year of Paramount Plus – the home of Star Trek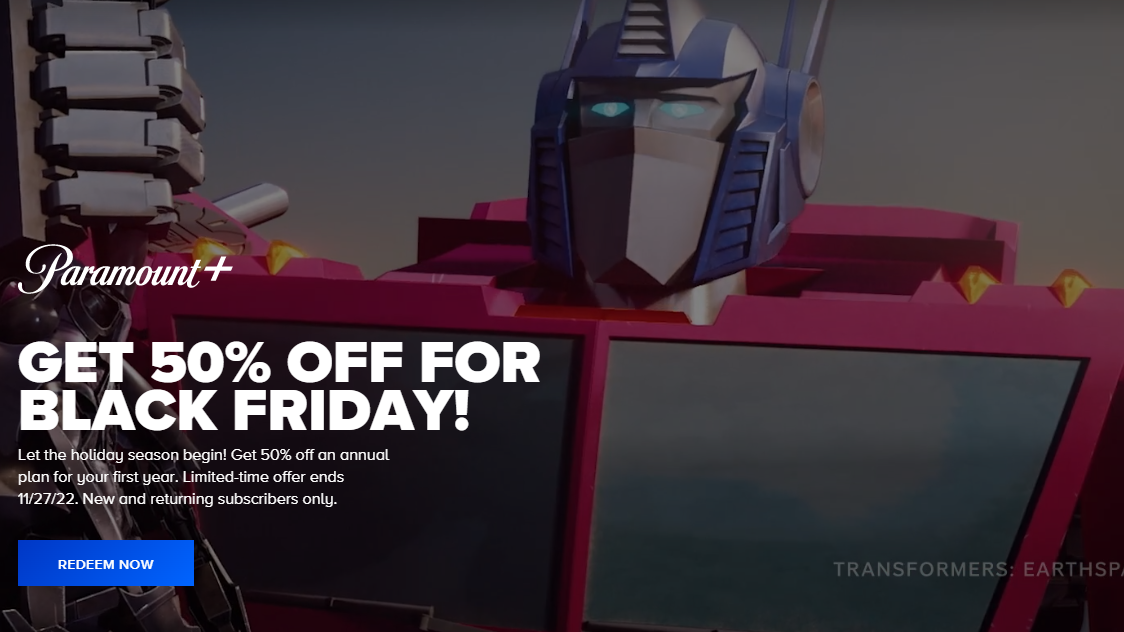 Paramount's Black Friday deal for its Paramount Plus streaming service is one of the best streaming deals we've found so far, offering a huge amount of content at a 50% discount. That equates to around $2 per month, and there are plenty of sci-fi shows to be found for your money.
Star Trek is the big one, with the entirety of the TV show's 860 episodes to watch (as well as the movies), but there are newer sci-fi shows like videogame tie-in Halo, classic mystery thriller Twin Peaks, and The Twilight Zone reboot too.
Get 25% off these Celestron SkyMaster 15×70 binoculars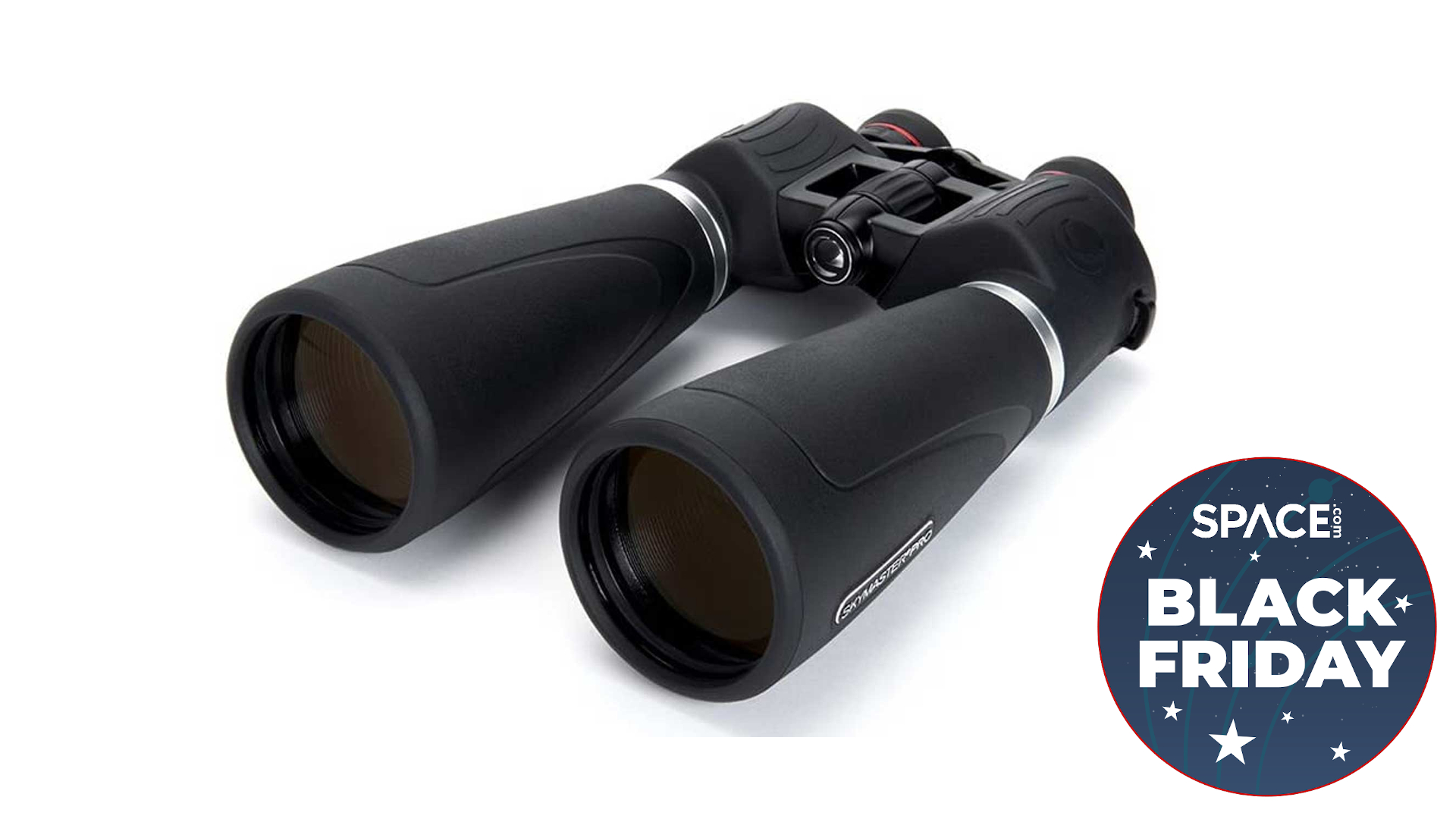 The Celestron SkyMaster 15×70 binoculars are currently discounted by 25% (opens in new tab), making them an excellent buy for budding skywatchers who want to view larger deep-sky objects.
Since our initial post about this deal yesterday, they have been reduced by a couple more dollars, but we expect this to be the lowest they will go.
You can read our Celestron SkyMaster Pro 15×70 binoculars review to get a feel for the version of the binos that are on sale, but note that these are slightly less rugged and not waterproof, unlike the pro version (which cost more than double). If you're not planning on using your binos in inclement weather, for the price, these binoculars will see you right.
Because of the high magnification, you should invest in one of the best tripods so you don't have to worry about wobble spoiling your views.
Once set up in the right conditions, you can see the Andromeda Galaxy and the bright Messier galaxies and nebulas based on the list drawn up by Charles Messier.
All-in-all, these binoculars will give users an enjoyable star and galaxy-gazing experience at a very reasonable price.
Get 50% off the HP Reverb G2 VR headset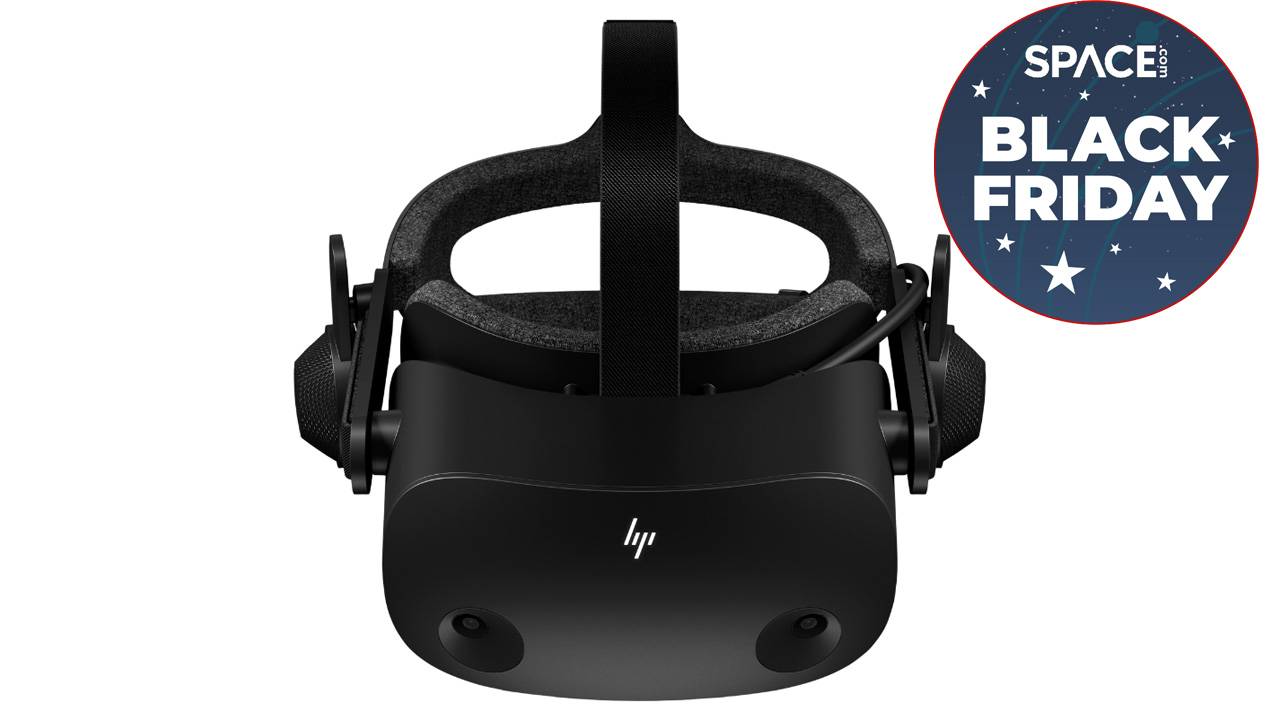 HP Reverb G2 VR Headset: Was $599 Now $299 at HP

(opens in new tab)

 
HP's highly-rated VR headset, the Reverb G2, is one of the best VR headsets around. Better yet, the manufacturer has cut the price by 50%.  Right now, you can get the HP Reverb G2 headset for just $299 at HP (opens in new tab), down from the usual price of $599.
Unlike the Meta Quest 2, you will need a PC to connect to, but it offers a 2160×2160 resolution in each eye and excellent audio. For more, be sure to check out our HP Reverb G2 review where we awarded it 4-stars and noted how easy it is to set up.
That makes it ideal for a newcomer to VR, or to an experienced user looking to step up from the Meta Quest 2 or a PlayStation VR. With the G2's lengthy, six-meter cable, it's less restrictive than many wired headsets, too, and it's comfortable for longer periods of time – perfect if you're up to your eyeballs in No Man's Sky VR.
Save a stellar 50% on the Lego Galaxy Explorer set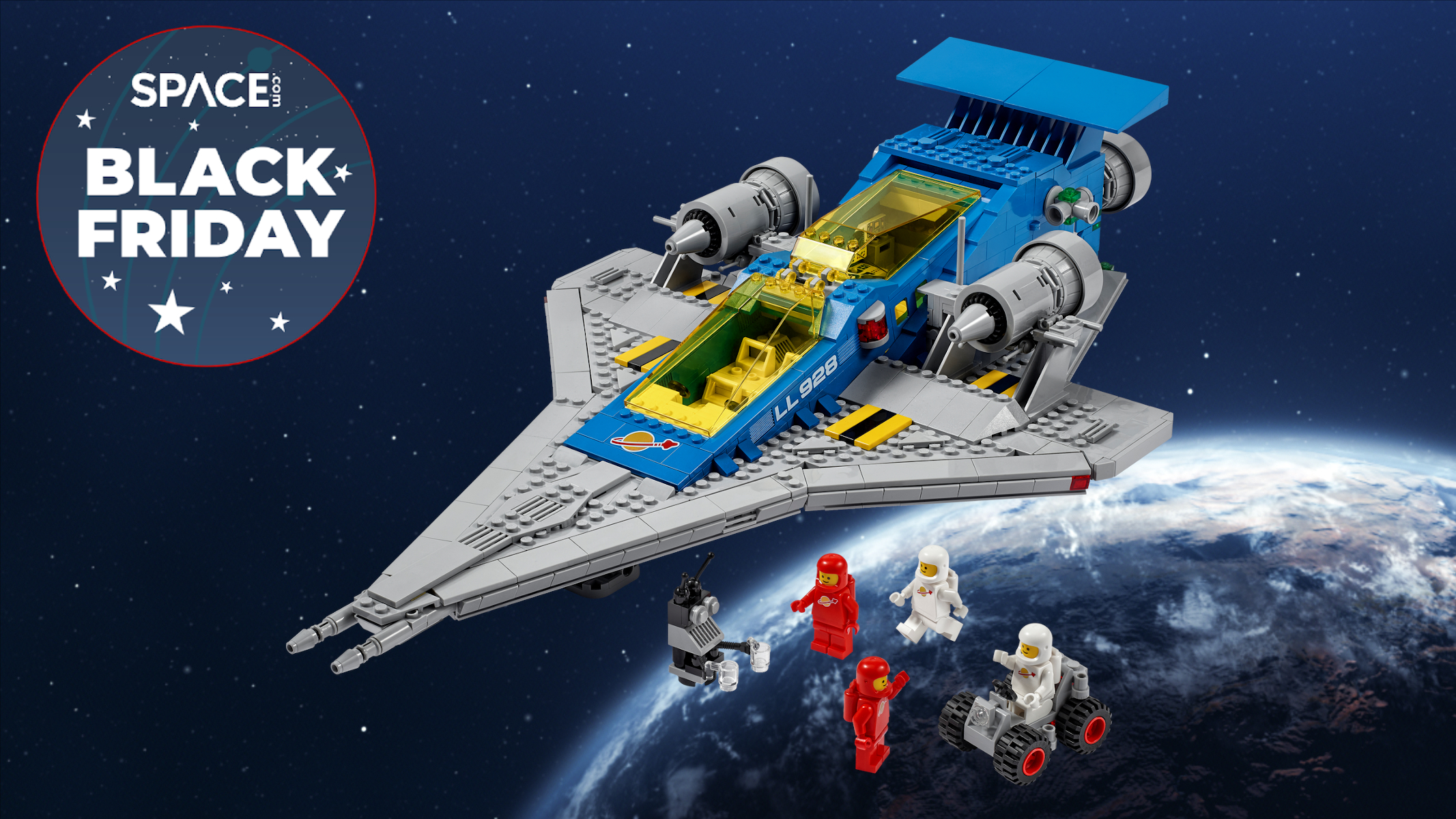 We love a good Lego kit here at Space. In fact, the only thing we love more is a good Lego kit at half price which is exactly what we've found over at Walmart. You can get the Lego Galaxy Explorer set for just $50 (opens in new tab), reduced down from $100.
The Galaxy Explorer is a modern take on the classic 1979 Lego set of the same name, and it's an impressive mash-up of retro-styling and modern design. It comes with 4 minifigures – 2 red and 2 white astronauts, and has a total of 1254 pieces, making it an involved, but not massive build.
We actually checked out the set earlier this year and gave it a perfect score of 5 stars (check out our Lego Galaxy Explorer review to see our full thoughts). We even compared it to the original model as our reviewer still had theirs.
We're covering all the best Black Friday Lego deals on our main hub, so head over there for more savings on Star Wars, Space, and Marvel themed kits.
Hulu's Black Friday deal is just $1.99 a month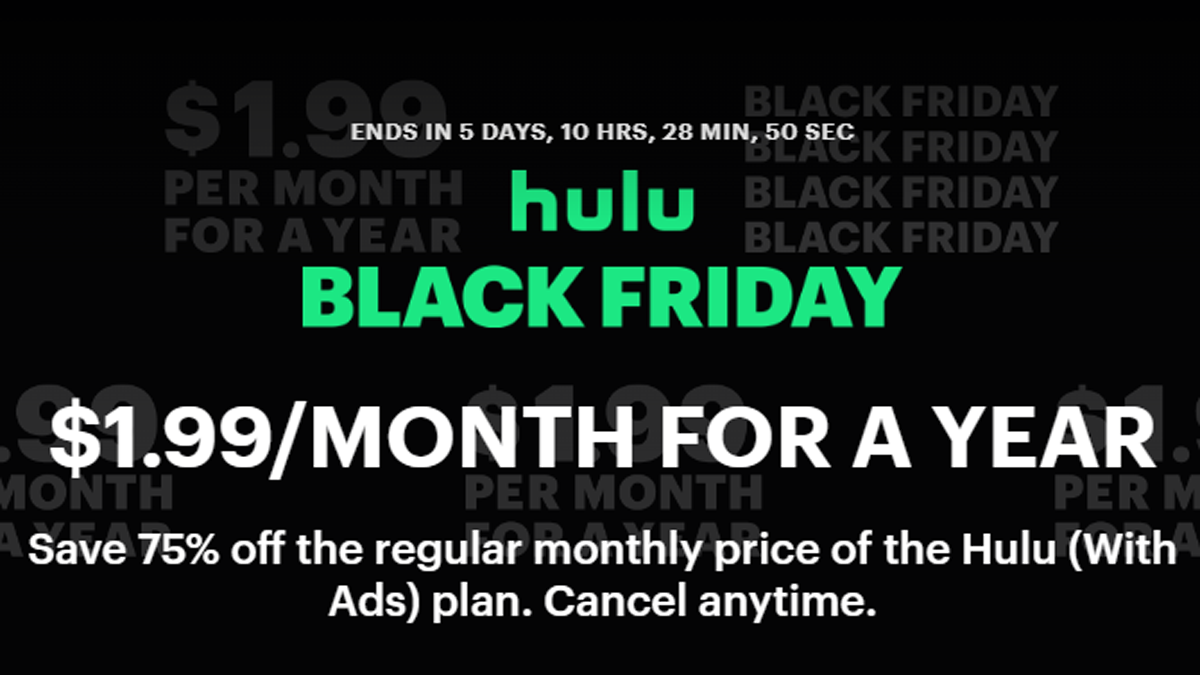 There is no shortage of science fiction on streaming services right now and nowhere is that more true than at Hulu and right now you can get a year of Hulu for just $1.99 a month (opens in new tab), a 75% discount of its regular $7.99 fee. 
The Black Friday Hulu offer is not as deep a discount as the streaming service's 2021 deal, which offered a year's subscription at just 99 cents a month, but it's still a bargain for fans of The Orville, Rick and Morty and other sci-fi shows that call Hulu home. After all, where else are you going to see the new Hulu original "Prey," which is the latest entry in the Predator franchise?
Hulu is making this deal available primarily to new subscribers, but if you are a lapsed subscriber – and you have not used Hulu in the last month – you may be able to qualify for the offer. 
If you looking to save on a streaming service, but Hulu isn't your cup of tea, you're in luck. Our Black Friday streaming deals has a rundown of the offers available now. 
Save $200 on a DJI Mini 2 drone bundle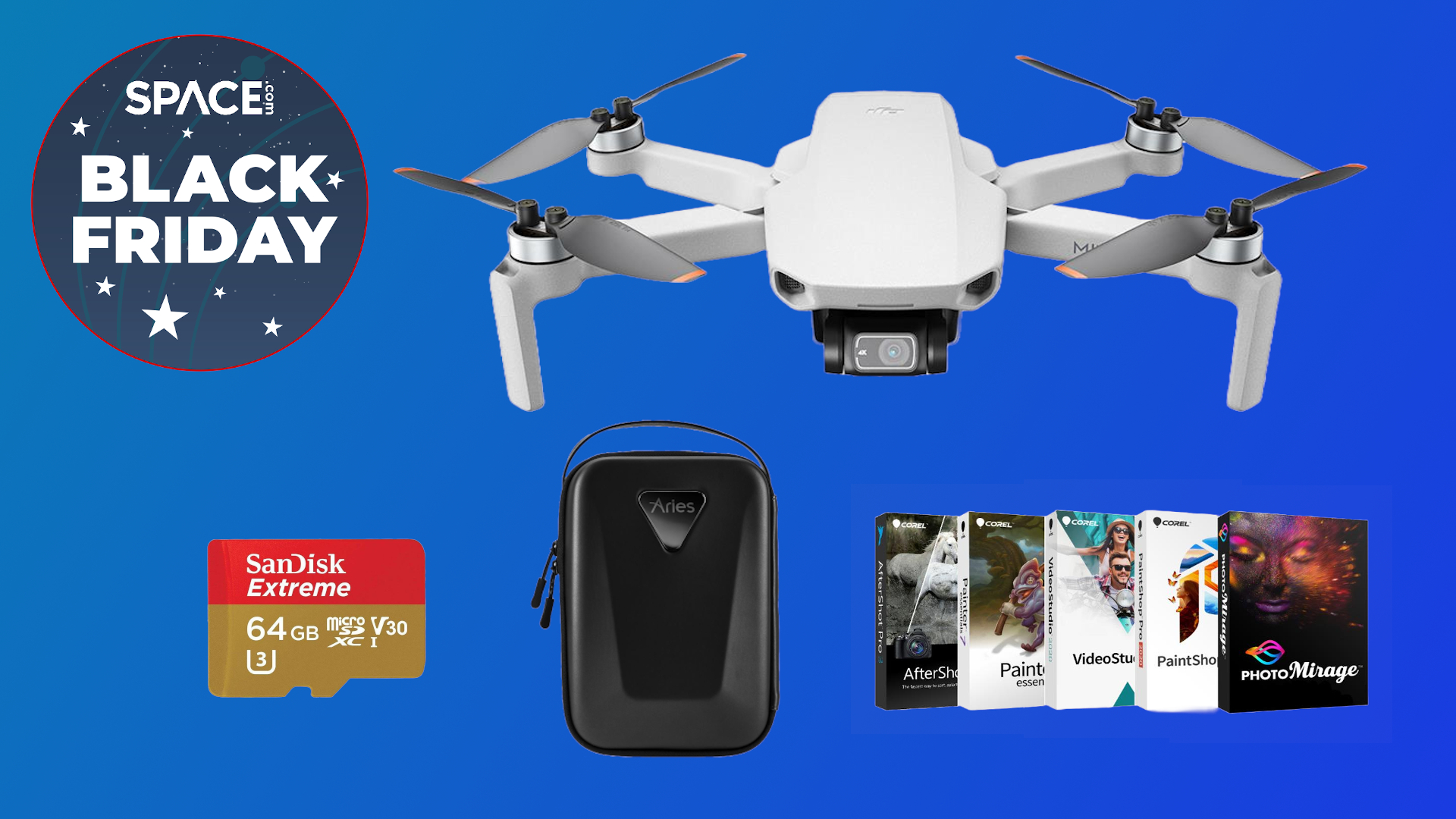 If you're just starting out on your drone journey, this early Black Friday deal is a great opportunity to land a beginner-friendly drone and save hundreds of dollars at the same time. 
DJI is a known for its quality drones and the DJI Mini 2 is one of oour favorite drones for beginners and experts alike. At $479, this DJI Mini 2 drone bundle is $200 off at Adorama (opens in new tab) and is the best price we've seen for Black Friday this year. The bundle is on sale for 29% off and comes with the drone, as well as a microSD card, carrying case and several other extras for your aerial or sky photography needs. 
As we noted in our DJI Mini 2 review, this drone is small enough (it weighs 249 grams) that it's portable and lightweight, and also does not require you to register it for casual flying. You will need to check your local drone regulations, though. It carries a 12 MP camera for both still images and video and has about 23 minutes of flight time (according to our tests) before it returns home on a 25% battery life mark.
If you're looking for more affordable drone ideas, check out our best drone deals and our beginners guide to drones and best drones features can help you pick the right machine if you need more tips.
Meta Quest 2 VR headsets are $70 off w/ free games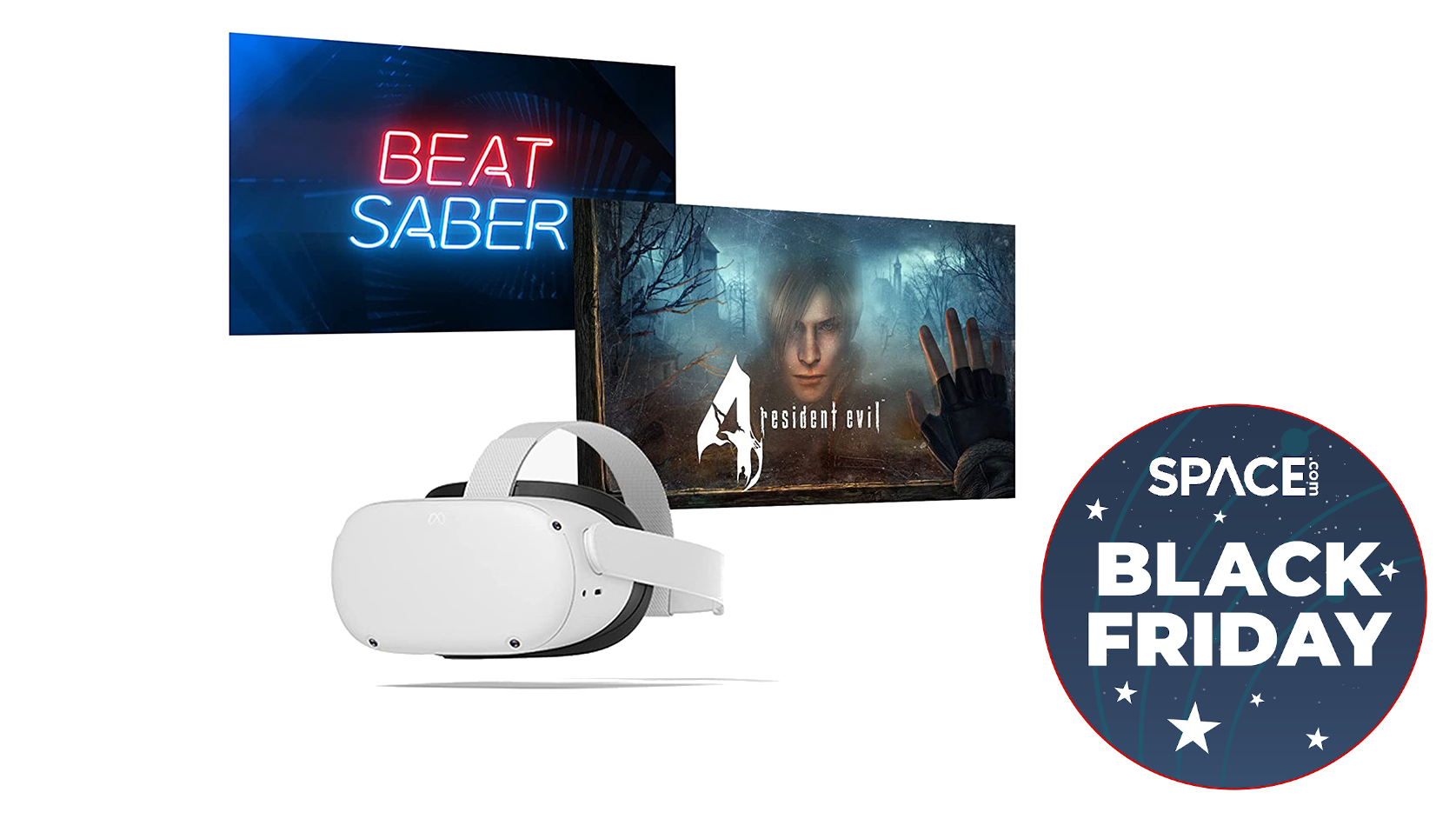 A good VR headset can transform a space experience on your computer into an immersive trip across the final frontier and this Meta Quest 2 deal from Amazon has the right stuff. 
You can save up to $70 off a Meta Quest 2 VR headset with a 259 GB capacity (opens in new tab), the highest storage capacity available now, and get two free games at the same time. This Black Friday Bundle comes with Resident Evil 4 VR and Beat Saber for free, and we've got a list of the best free space VR games to choose from once you're set up. 
If 259 GB is a bit much, you can still save $50 on the Meta Quest 2 VR headset with 128 GB (opens in new tab), which also comes with the two free games. Both deals come with the Quest 2 headset (it was previously called the Oculus Quest 2, if it sounded familiar to you, and it's a standalone device. You won't need a game console or PC to pair it with, but it does link to PC if you'd like to try a PC VR title or two. 
The Meta Quest 2 includes features to keep you from bumping into obstacles, two Touch controllers and cameras to help orient yourself in a room. Its reviews on Amazon are overwhelmingly positive, and we were also impressed when we tried it, too. Check out our Meta Quest 2 review for an in-depth look at the VR gear.
If the Meta Quest 2 isn't exactly what you're looking for, check out our other VR headset deals and our guide to the best VR headsets around.
Save 21% on the Celestron AstroMaster 70AZ telescope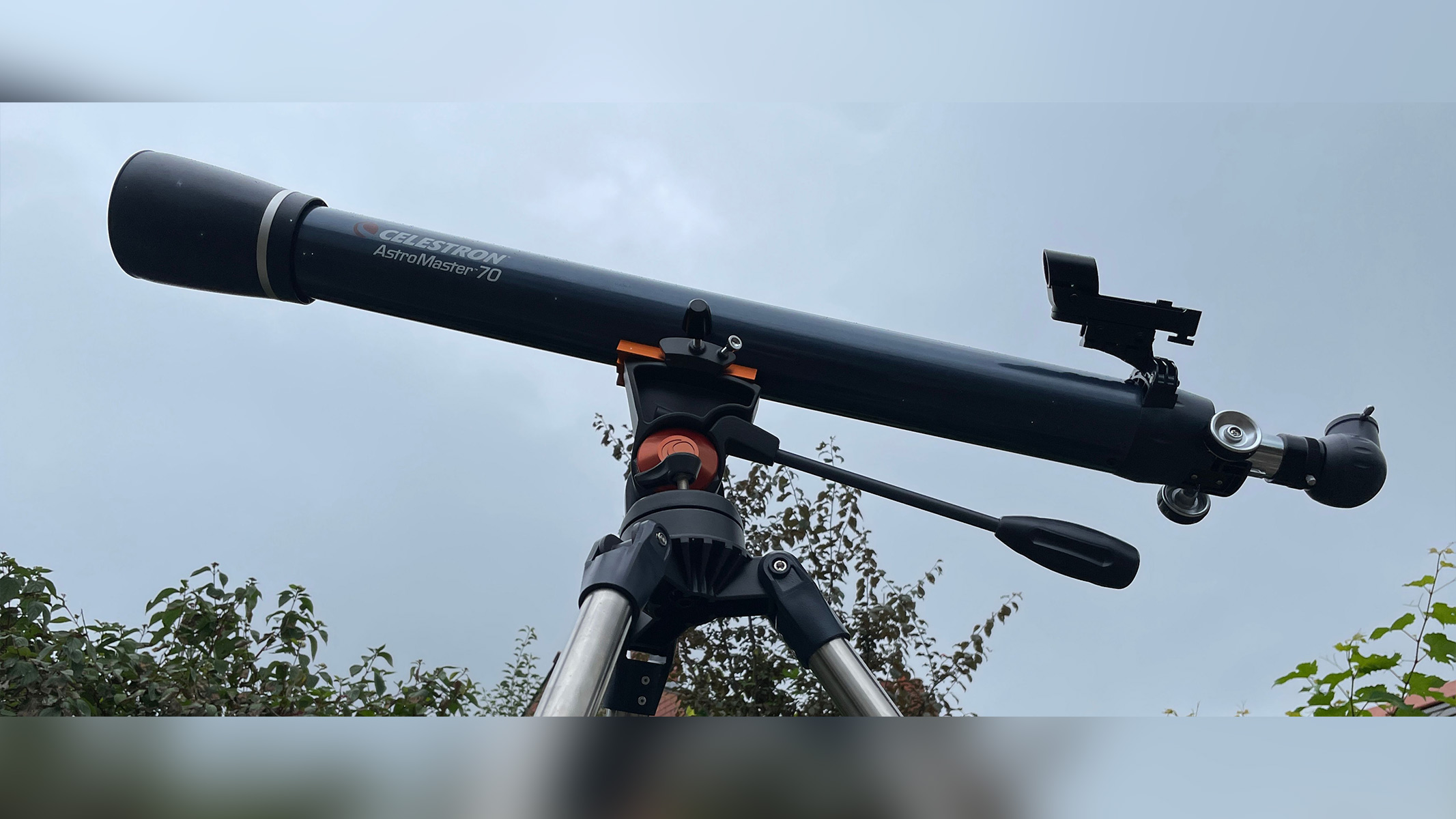 The Celestron AstroMaster 70AZ refractor telescope is currently at a discount of over 20% (opens in new tab) which makes a perfect gift for beginner astronomers this Black Friday. It features a 70mm aperture and a powerful 900mm focal length that takes you in for detailed lunar views. Not only that but thanks to the fully coated objective lens it's ideal for land-based viewing as well: wildlife, landscapes and more are adequate subjects during the day.
At night though, the AstroMaster 70AZ benefits from fully coated optics to reduce optical aberrations associated with astronomy. The telescope also ships with everything you need to get started stargazing: a full-height tripod, two eyepieces, and a red dot finderscope to find your celestial objects before refining positioning through the eyepiece. During our Celestron AstroMaster 70AZ review we noted that the achromatic refractor avoids distracting 'false color' and is already good value, which is even more evident now given the discount. 
Suitable for adults but also easy enough to set up for younger astronomers and kids, the refractor weighs just 11 lbs (5 kg) so taking it out to dark sky locations, or just to get away from the city lights, is simple. The tripod also comes with a simple Alt-Az controlled tripod with a smooth panning handle to locate night sky objects quickly.
It requires no tools to set up and is one of the simplest telescopes in Celestron's refractor range. Read our guide to the best telescopes if you want to shop around. Alternatively, check out our round-ups of the best telescopes for beginners, best telescopes for kids and snap up quick deals with budget telescopes under $500
Lego's UCS Millennium Falcon is $100 off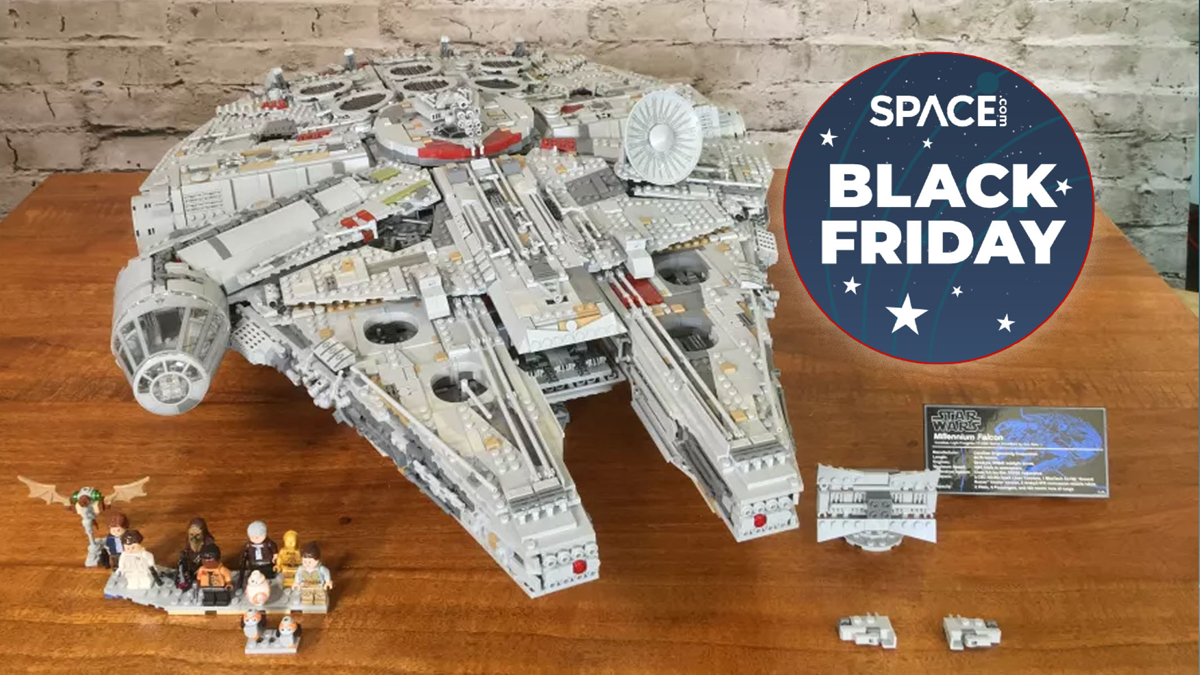 The Millennium Falcon is an icon for science fiction fans around the world and when it comes to models, there is no higher crown jewel than the Lego Star Wars UCS Millennium Falcon set, which is on sale for $749.99 (opens in new tab), a full $100 off, at Zavvi this week. You'll have to use the code SWFALCON at checkout to get the deal.
Released in 2017, the massive UCS Millennium Falcon set is part of Lego's Ultimate Collectors Series. It is a massive building set with 7,541 pieces and measures 22 inches wide, 33 inches long and 8 inches tall (about 56 centimeters wide, 84 cm long and 20 cm tall). It also weighs a whopping 37 pounds (17 kilograms) but in our review of the UCS Millennium Falcon, my colleague Jordan Miller found it to be sturdy enough to move around once built with out fear of it crumbling apart.
This set does not go on sale often, and while last year Amazon did host a special lightning sale during Black Friday, the set sold out quickly and it is not currently expected to be back on sale at Amazon in 2022. We're not sure how many sets Zavvi has available, so if this set has been on your Padawan's gift list, you may want to act fast.
You can also see all of our best Lego Star Wars sets and our best Lego Star Wars deals to prepare for Black Friday. Our best Lego space deals has more familiar rocket  and other set deals from a galaxy closer to home.
Save $70 on the Celestron AstroMaster 114 EQ telescope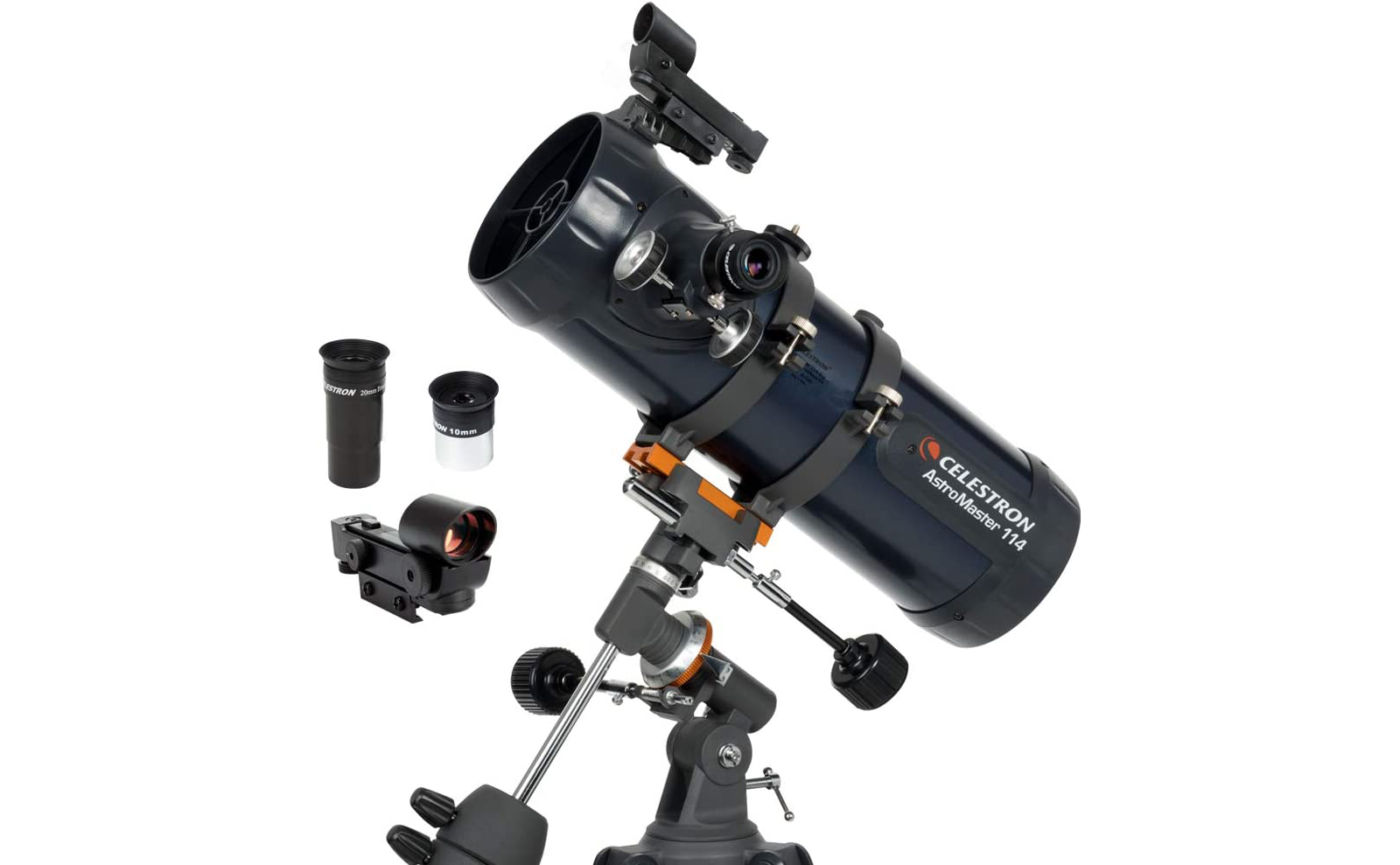 We first saw the Celestron AstroMaster 114 EQ telescope at $70 off on Amazon (opens in new tab) back in October during Amazon Prime Day but the deal is now back for Black Friday.
There's already a $30 discount on the AstroMaster 114 EQ but save a further $40 off with the coupon (tick the box) and you'll see this $70 saving at checkout. We've rated it as one of our best telescope deals currently available. However, if you want to see what else is available take a look at our guide to the best telescopes in 2022. 
This is a good telescope for beginners and those who don't have much experience with skywatching. It's easy to use and comes packed with accessories including two eyepieces (20mm and 10mm), a full-height tripod and a StarPointer red dot finderscope. It also ships with software to support your stargazing experience. If you want to discover other skywatching gear and have a keen eye for deals, be sure to check out our guides to the best Celestron telescope and binocular deals,  best telescopes for beginners and budget telescopes under $500.
Nikon D850 camera now almost $900 off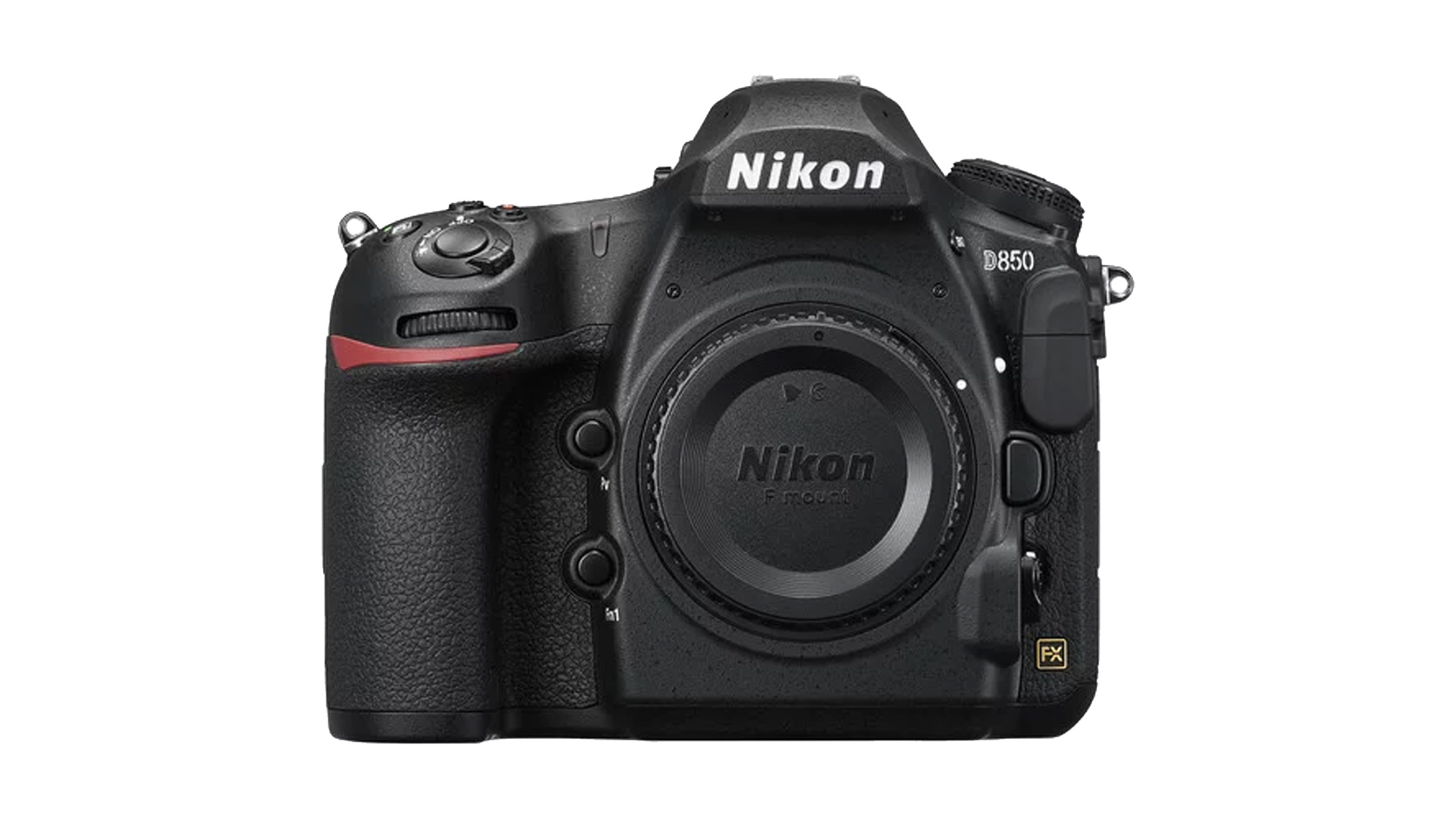 This huge $900 discount on the Nikon D850 (opens in new tab) is the biggest saving we've seen on what we've rated as one of the best cameras for photos and videos and the best camera for astrophotography. Dropping it from $2,996.95 down to just $2,104.95, Walmart are currently offering the best deal on this DSLR camera.
Although a few years old now, it still competes with modern mirrorless cameras. We gave it 4.5/5 stars in our Nikon D850 review. It shoots stills photos at a whopping 45.4MP resolution and can capture 4KUHD 30p video which lends itself well to any photographer and videographer except those that require the latest 8K video res.
A superb generalist camera the Nikon D850 is amazingly good at everything. Astrophotography, sports, wildlife, portraiture, landscapes — you name it, the D850 can handle it.
Built like a tank and designed for professionals to throw around all day, it's fully weather sealed so taking it out in the rain or snow won't make it bat an eye.
B&H is also offering a $500 discount on the Nikon D850 (opens in new tab) and Amazon is currently matching that with their $500 Nikon D850 deal (opens in new tab) but we recommend you grab it from Walmart while stocks last to almost double your savings.
Hexeum night vision binoculars 53% off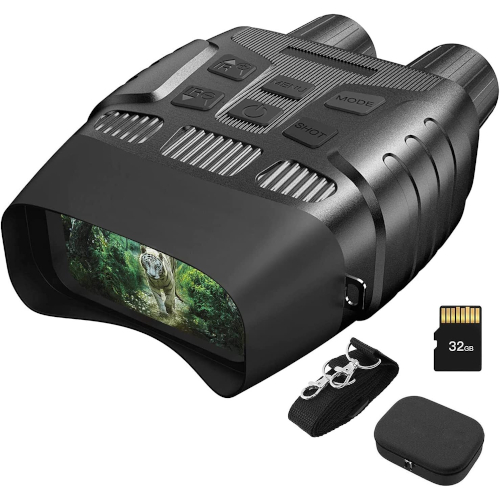 Hexeum may not be a household name when it comes to high-quality optics, but this deal caught the eye of our optics team because it's simply too good to resist for people in love with the outdoors.
These Hexeum night vision binoculars are on sale for $139.98 at Amazon (opens in new tab), down from $298, and come with a 3x magnification and 4x digital zoom. While we haven't been able to test them hands-on, their specifications are impressive enough to make them worth the risk when they're at this price. 
Amazon does seem to like these night vision binoculars as we saw a similar deal during Amazon Prime Day this year. Check out our full analysis of this Hexeum night vision binoculars deal here for more.
If you'd rather shop around for other options, check out our guide to the best night vision binoculars. We also have a best binoculars guide for more traditional optics and you can save more with our best binocular deals. We've also rounded up some of the best compact binoculars and for children, we have the best binoculars for kids.
Unistellar up to telescopes $1,000 off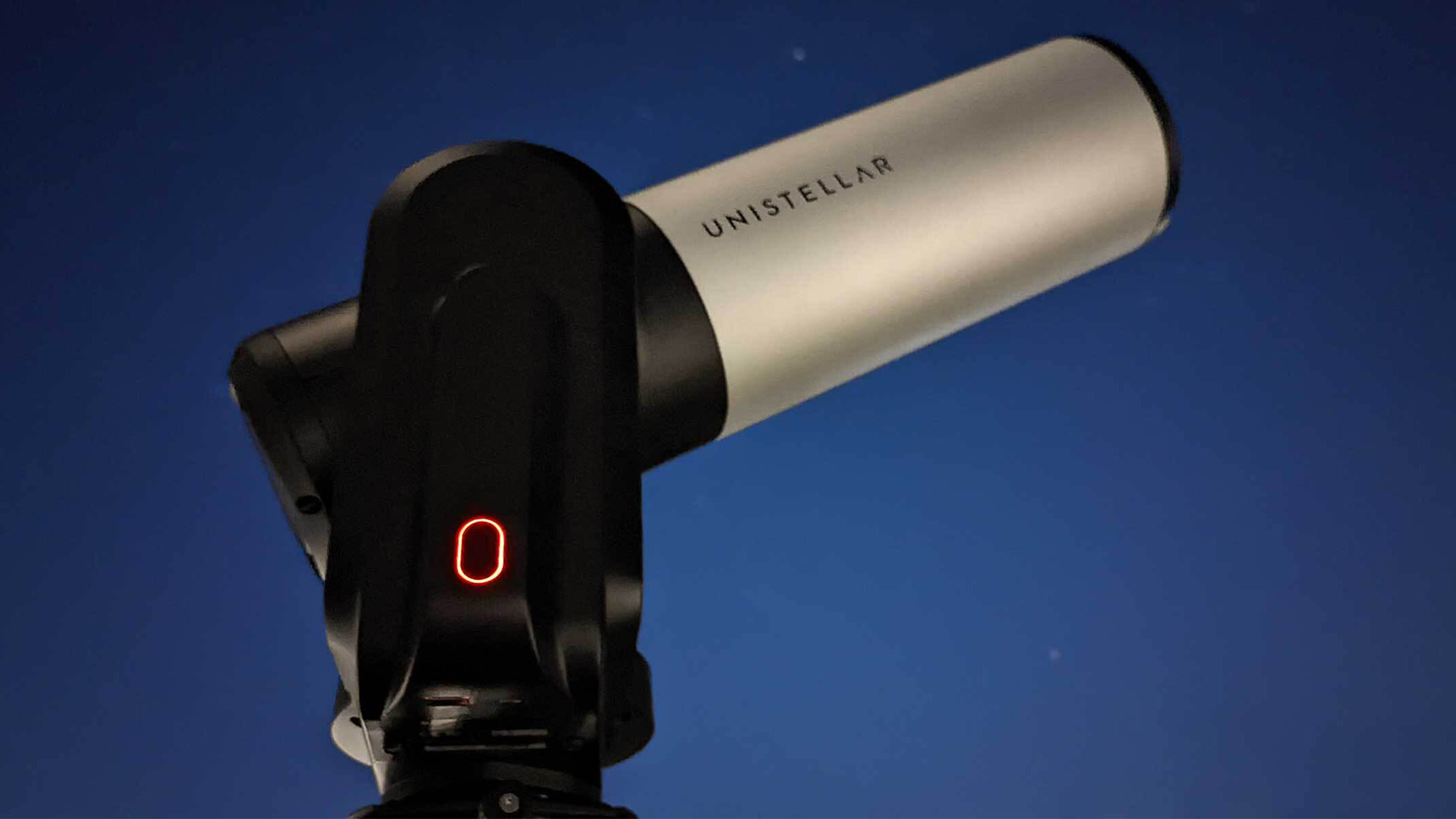 Unistellar's eQuinox and eVscope 2 telescopes are powerful, fully computerized skywatching tools designed to allow stargazers to observe deep-space objects like star clusters, galaxies and more while reducing the impact of light pollution on your night sky. Unlike traditional telescopes, which can only have an eyepiece to look through, these telescopes are app-controlled and allow you to observer through your smartphone or other device much like astronomers do. 
While the baseline price can be a bit of a shock, a savings of up to $1,000 is a huge markdown for the eQuinox telescope (opens in new tab), which offers up to 400x digital magnification to image faint star clusters or nebulas. The $900 off the eVscope 2 (opens in new tab) offers a discount on a powerful tool for astrophotography: it has a 7.7MP enhanced image resolution and a Nikon eyepiece for traditionalists that prefer to view on the telescope, rather than the also-compatible smartphone view. 
Unistellar's double telescope sale is part of the company's Black Hole Friday Deal event for Black Friday and runs through Nov. 28. If you are looking for something a little less demanding on your wallet, check out our guide for the best budget telescopes under $500.
[ad_2]