[ad_1]

The famed bear was digging for his next meal when Jason Leo Bantle happened upon the 300-kilogram grizzly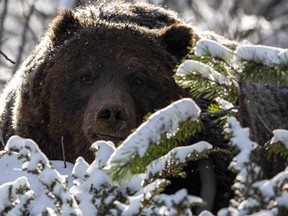 Article content
When photographer Jason Leo Bantle began following the fresh tracks of a grizzly in the snow in Banff National Park, he wasn't trying to find the bear that left them — and he certainly didn't expect to encounter the Bow Valley's most prolific bruin twice in one day.
Article content
"You don't go hunting for a grizzly bear when it's fall time," joked the award-winning, Canmore-based nature photographer.
Article content
Cautiously, Bantle followed the tracks backwards, finding a den where the bear spent the night and a number of freshly-dug holes where it'd been looking for one of its last meals before it settles in to hibernate for the winter. Curiosity satisfied, Bantle got back in his car to leave but spotted something "glistening" outside his window as he drove off.
"I'm like, 'What? Was that a bear?'" he said. "I backed up and sure enough, there was dirt flying in the air and he was digging under a stump looking for another ground squirrel."
About 100 metres away from the grizzly, he pulled out his longest lens to capture the moment from a safe distance. With a closer look, his suspicions were confirmed — it was The Boss.
Article content
"I knew it was him when I took the very first photo … you can see his right ear, he's got only half an ear. I believe that's where his ear tag number 122 used to be," he said. "That's his distinguishing feature, plus his pure size. He's just a massive creature."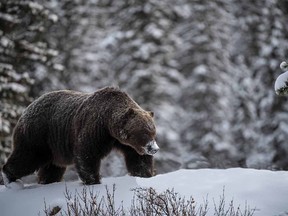 Officially known as Bear No. 122, The Boss is considered to be the toughest and most dominant grizzly bear in the Bow Valley region. The estimated 300-kilogram grizzly is believed to be more than 20 years old.
"He's kind of a guy who to a certain extent, is really leading the grizzly bear population in Banff," said Bantle, who has a background in biology. "He's managed to eke out a living in a lot of places where, unfortunately, grizzly bears end up being killed due to human disturbance. He's a bear that's navigated the Banff Lake Louise area and lived a long life."
Article content
The Boss is best known for a number of headline-making incidents including eating black bears, surviving being hit by a train and Bantle said the bear is likely to have fathered 70 per cent of the cubs in the region.
Bantle said he felt honoured to be in the presence of the valley's most famed bear — who he'd happened upon only a handful of times before — describing the situation as "surreal."
"The light was fading right like it was sunset, the mountains were lit up behind them. I mean, it was just a gorgeous scene of nature. And with a legend; he's legendary, this guy," he said.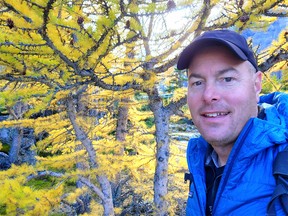 Bantle left for a bite to eat and returned later in the day to try to catch the massive bruin on camera again. He sat on the edge of a meadow and was lucky enough to catch The Boss plodding through the snow for a second brief photo opportunity.
"I've only experienced The Boss four or five times and every time it's just — he's such a massive creature … In my experiences with him I find him to be a gentle giant, but again, he's a wild animal," he said.
"He doesn't pose for long; he kind of just does his thing. He's a cool dude."
The life of grizzly bear No. 122: 'His entire world revolves around food, and mating'

Photographer bears witness to battle of Banff's two biggest grizzlies

Photographer snaps elusive grizzly believed to be The Boss
Twitter: @michaelrdrguez


[ad_2]