[ad_1]

Utah has some of the darkest night skies in North America. Its five US National Parks – Zion, Bryce Canyon, Arches, Canyonlands and Capitol Reef – are all famous for all kinds of photography, but they're just the tip of the iceberg when it comes to finding dark skies for astrophotography. The Beehive State is home to 24 International Dark Sky Parks, many of them Utah's State Parks, which make its night skies the most protected in the world. But that's not all. "Utah is one of the best places for astrophotography in North America for many good reasons," says Dan Zafra from CaptureTheAtlas.com, who organizes astrophotography tours to Utah. "Most of the state is located on the Colorado Plateau, which offers two of the key factors you need to see the Milky Way—it's away from the main sources of light pollution and it's located at a very high elevation, with plenty of the national parks above 5,000 ft." 
Read: How to photograph the Milky Way
However, you don't even need to go near a national park if you want darkness, as any light pollution map will show you. "Utah is working hard to protect its dark sky resources for all to enjoy," says Bettymaya Foott, an astrophotographer and Director of Engagement at DarkSky. "And the landscape is so varied." The quietest, but also the cloudiest, months come in winter, August sees a rainy season and the end of summer can be covered with haze or smoke from wildfires. So aim for late March to June for mild temperatures, clear skies—and the Milky Way rising in the night sky. 
Here are some of the lesser-known spots to aim for in Utah: 
Read: The best cameras for astrophotography
1. Goblin Valley State Park, southeastern Utah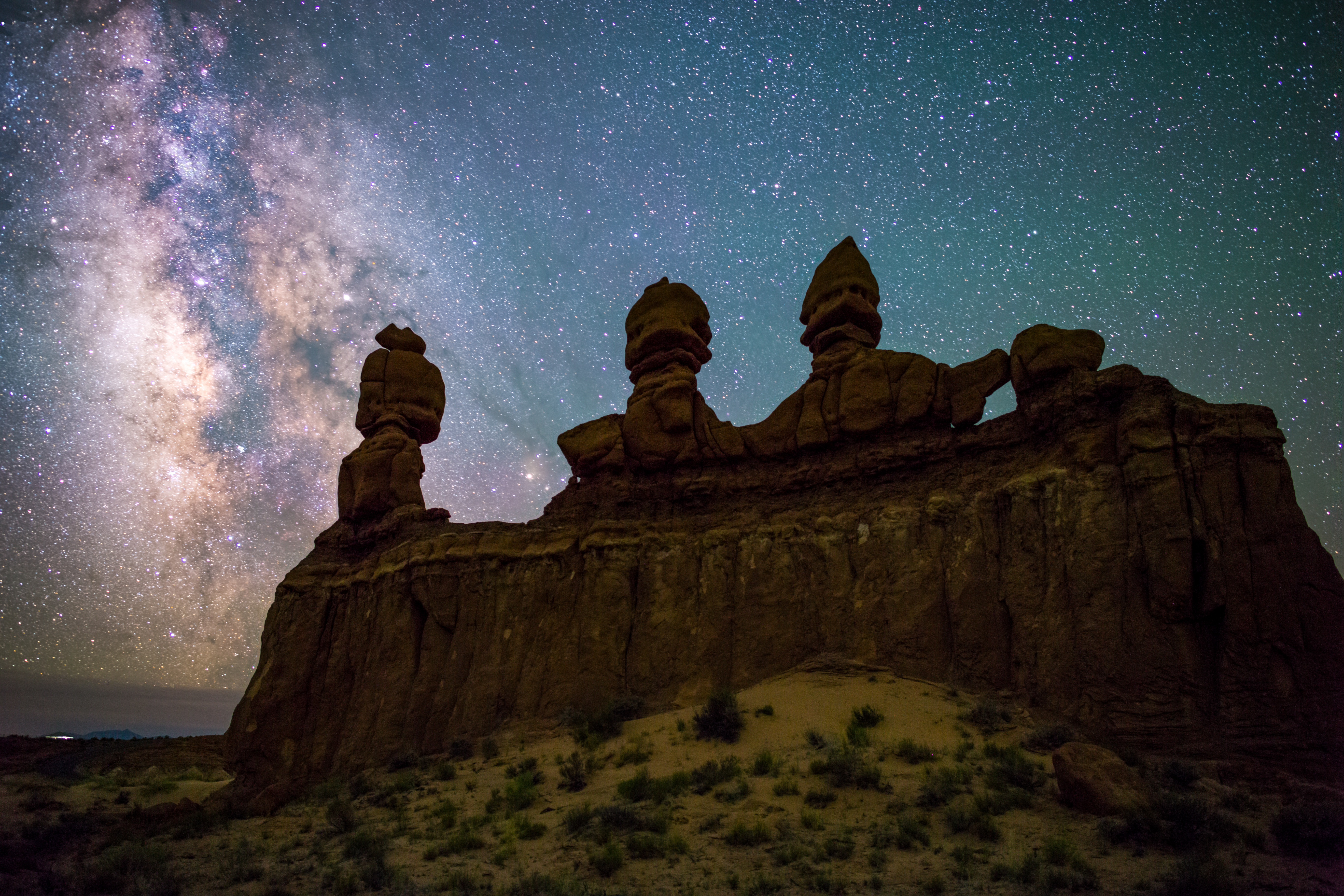 "If you want to avoid the crowds, check out some of the lesser visited, but still amazing, Utah State Parks," says Foott. Tucked away to the west of Moab, this lesser visited location in southern Utah has hoodoos just as Bryce Canyon does, but here they're mushroom-shaped, which makes for some interesting astrophotography foregrounds. "Goblin Valley State Park has amazing hoodoos to play around with infinite compositions," says Foott. "You feel like you're on another planet already!" Stay in the off-grid Goblin Valley Campground. Goblin Valley State Park is also an International Dark Sky Park.
2. Grand Staircase Escalante National Monument, southern Utah
Southern Utah is empty and the perfect place to explore with a camera at night. "One of my favorite areas is Grand Staircase-Escalante National Monument, which is more remote and offers excellent opportunities to do astrophotography in unique locations," says Zafra. This vast wilderness – including the Grand Staircase (so-called because it descends from Bryce Canyon to the Grand Canyon), the fossil-packed Kaiparowits Plateau and the Escalante Canyons – was the last part of the lower 48 United States to be mapped. Don't miss the four-mile hike to the picturesque Lower Calf Creek Falls Trail. 
Read: How to try deep-space astrophotography
3. Uinta Mountains, northeastern Utah
One of the few mountain ranges in the US to go east-west instead of north-south, the Uinta Mountains are reasonably close to Salt Lake City yet have super-dark backcountry. A good way to sample it is on the Mirror Lake Highway's 42 miles from Kamas heading north into Wyoming, which includes lots of overlooks, picnic areas, waterfalls, lakes, trails and campgrounds as its ascends to over 10,000 feet. "Aspen public campground on the south side of the mountains is a great place to stay," says Ryan Andreasen, a Utah-based photographer and astrophotographer. It's at 7,200 feet in a forest of aspen, fir, lodgepole pine and spruce just above the North Fork Duchesne River with beautiful views of the surrounding canyon. It's a top spot for summer wildflowers and dark skies. "Mirror Lake Campground is popular with photographers and a great place for a Milky Way reflection photo," adds Andreasen. 
4. Goosenecks State Park, southeastern Utah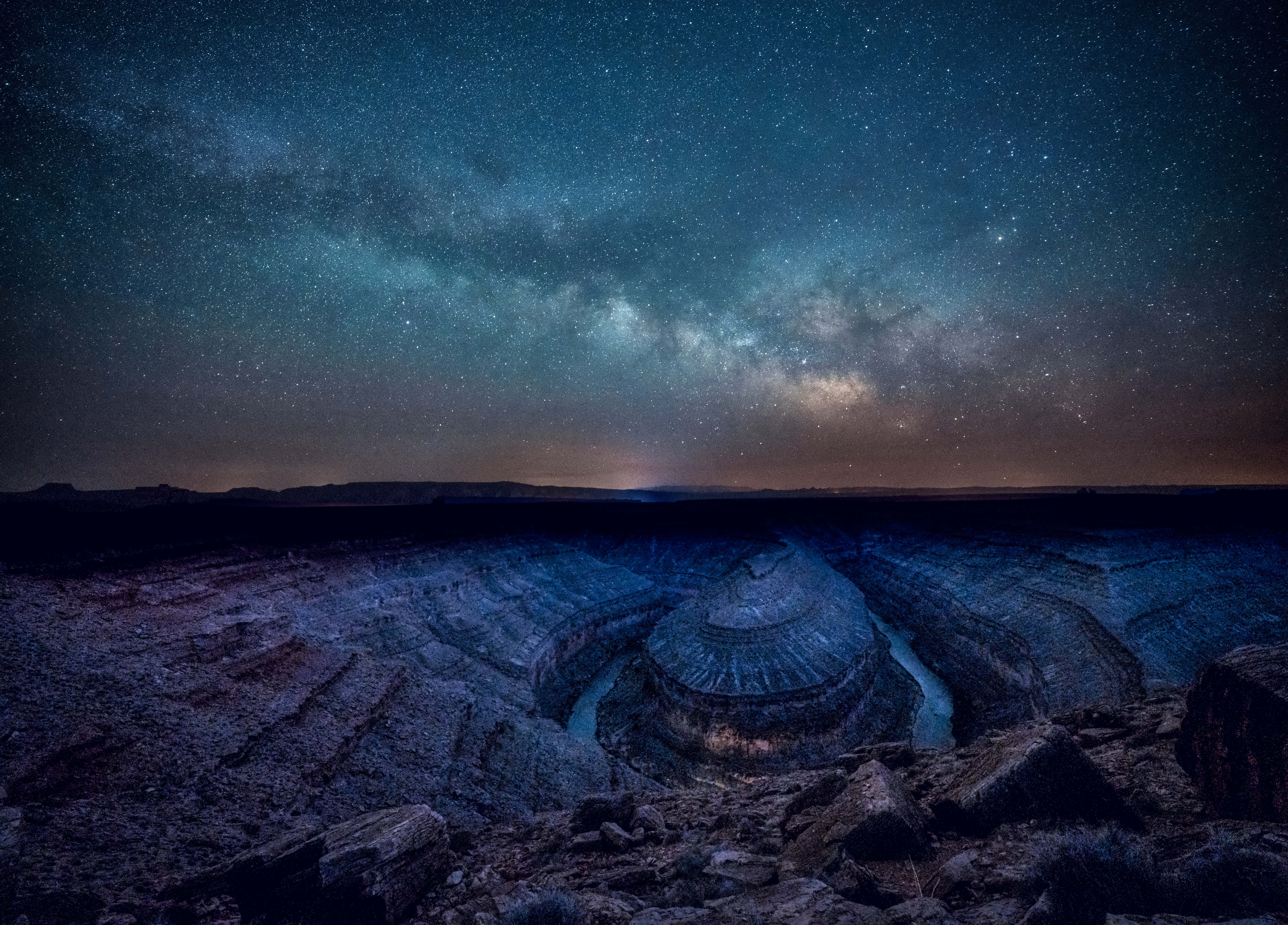 "Goosenecks State Park is incredibly beautiful, and you don't have to hike to get to an amazing viewpoint and set up all your heavy equipment," says Foott. Come here for the view into a deep canyon above a meander – a gooseneck – in the San Juan River that can be lined up with the Milky Way in spring, but stay for the numerous other photography opportunities nearby at Natural Bridges National Monument, Valley of the Gods, Mexican Hat and Monument Valley Navajo Tribal Park in southern Utah. An International Dark Sky Park, Goosenecks State Park has eight designated campsites along the rim.
Read: The best star tracker camera mounts
5. The Burr Trail Scenic Backway, southern Utah
Northeast of Escalante, Scenic Byway 12 and south of dark sky hotspot Capitol Reef National Park is the town of Boulder, which is home to an 11th-12th century Puebloan village inside the Anasazi State Park Museum. "It's also home to Hell's Backbone, a 4×4 road where you're on the spine of the cliff with a 1,000 feet drop on each side," says Andreasen. However, the main attraction here is the Burr Trail, a 67-mile scenic drive between Boulder and Bullfrog that features views of the ultra-remote Henry Mountains, Waterpocket Fold, Circle Cliffs and Long Canyon via dramatic rock formations. "It's not even a park – it's just the middle of nowhere," says Andreasen. There are campsites to stay in along the way. 
6. Highway 128 Scenic Byway, eastern Utah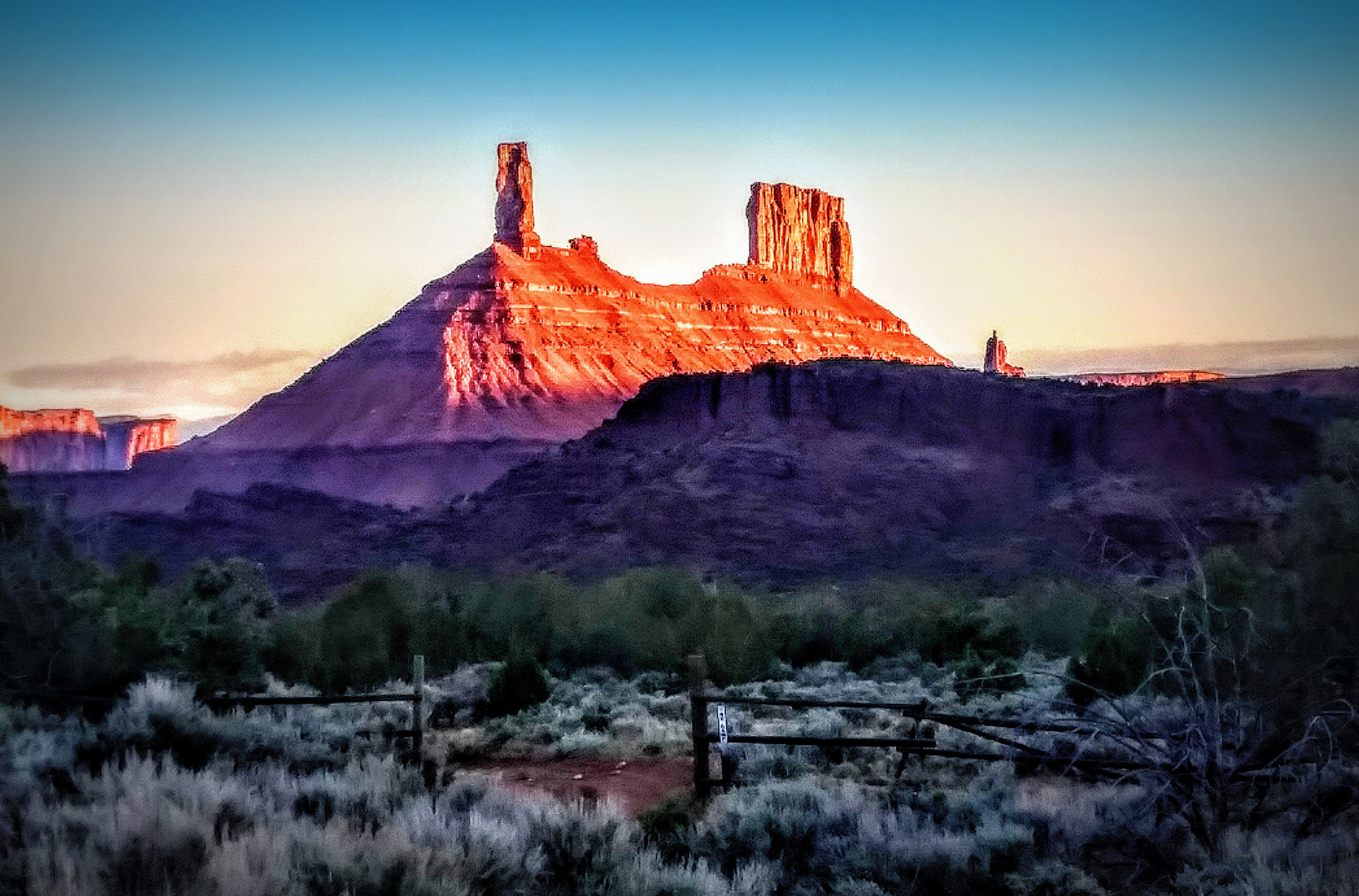 With Arches, Canyonlands and Dead Horse Point State Park in its vicinity, Moab is where it's at in Utah for anyone interested in photography and astrophotography. But there's much more in this area if you take the time to look around. "Instead of taking the road south to Moab from Crescent Junction from Interstate 70 to the north—as most people do—take the turn off for the Highway 128 Scenic Byway at Cisco," says Andreasen. "It takes you down the spectacular Colorado River gorge, eventually kicking you off in Moab." Places to see and photograph on the way include the ruined Dewey Suspension Bridge, Parriott Mesa and the super-dark Castle Valley while places to stay include a ton of campgrounds, Red Cliffs Lodge and Sorrel River Ranch Resort & Spa. 
• Plan now to photograph's Great North American Solar Eclipse 2024
7. Bears Ears National Monument, southeastern Utah
Although it's very close to Natural Bridges National Monument – home to Kachina, Owachomo and Sipapu natural bridges and the world's first-ever International Dark Sky Park – there's much to see and photograph in the surrounding Bears Ears National Monument region. A great way to sample it is to take the Trail of the Ancients Scenic Byway, which includes the incredible sight of hundreds of petroglyphs etched into a cliffside at Newspaper Rock. This region has a lot of Ancestral Puebloan cliff dwellings and a hike to one is a must. A great example is Mule Canyon, which includes House on Fire a mile into a four-mile hike that includes eight Ancestral Puebloan granaries. The entire area is remote with almost zero artificial light at night. 
Read more:
Astrophotography: How-to guides, tips and videos
Astrophotography tools: the best camera, lenses and gear
The best lenses for astrophotography
The best star tracker camera mounts
Best equatorial mounts
Best deep-space telescopes
The best light pollution filters
The best CCD cameras for astrophotography
The best spotting scopes
The best binoculars
The best microscopes
[ad_2]